When CA made these factions playable, I hope they carry their right weapons...
Thrace should have Rhomphaia,
Thracian Nobles should carry rhomphaia, look at their unit card...
"Used almost exclusively by the Thracians, As a weapon, the rhomphaia was feared because of the cutting power afforded to it by the polearm like design."
http://en.wikipedia.org/wiki/Rhomphaia
---
Dacia should carry Falx
Falxmen carried a rhomphalia in their unit cards instead of falx???; hope their falx is longer than what whey currently have...
"Trajan's column is a monument to the emperor's conquest of Dacia. The massive base is covered with reliefs of trophies of Dacian weapons and includes several illustrations of the two-handed falx."
http://en.wikipedia.org/wiki/Falx
---
Illyria should carry Sica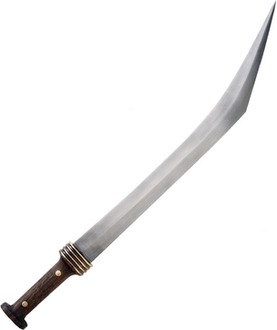 Illyria has no unit carrying sica yet....
"The Romans regarded the sica as a distinctive Illyrian weapon"
http://en.wikipedia.org/wiki/Sica
---
Anyways, I posted interesting articles and pictures regarding these factions at POST#39:
http://forums.totalwar.com/showthread.php/126412-Dacia-Thracia/page4?
Check it out!