The below is courtesy of "Spraetter" back on the old forums, re-posted so that it can be linked to in the

Guide to the Guides

. I in no way take credit for the guide and I would welcome it if Spraetter were to re-post it and inform me of it so that I can change the link in the GttG.
Spraetter's Guide to Napoleon: Total War

First of all I want to say that I've been having a blast with Napoleon: Total War. If it wasn't for the somewhat small scale and the lesser degree of variation and choices in your campaign, I'd say it was the best Total War game yet.
This time around there are much fewer questions to be answered than there were with Empire, seeing as N:TW is identical to E:TW in most of it's mechanics. If you're fuzzy about anything that's not covered in this guide it's probably covered in
my guide to E:TW
. As there is not nearly as much that needs explanation and clarification in N:TW, this guide will not be quite as massive as the E:TW one.
With all that said, let's get to it. I hope you enjoy it and can benefit from it in some way!
________________________________________

Table of Contents:

I: Towns And Buildings On the Campaign Map
II: Regional Capitals
III: Agents
IV: Government, Government Types And Revolutions
V: Diplomacy
VI: Trade
VII: Research
VIII: Armies And Navies

________________________________________
I: Towns And Buildings On the Campaign Map
Alot has changed when it comes to the towns out on the campaign map. There are now three main types of towns; intellectual centres, industrial centres and commercial centres. Each town type has two kinds of buildings availible to it, but you can only build one of them in a single town, so you have to choose. There are other places on the campaign map where you can construct buildings other than towns. These are pastures, farms, logging camps and mines. These sites only have one kind of building you can construct on them.
One big change to towns from E:TW is the different meaning town wealth has now. Each town's wealth is determined by the building in it. They are no longer "poor" or "wealthy" as in E:TW, and all towns have an equal productivity. The region's wealth is the sum of all your towns' wealth coupled with wealth from ports, mines etc.
Intellectual Centres
In your intellectual centres you can either build colleges or member's clubs.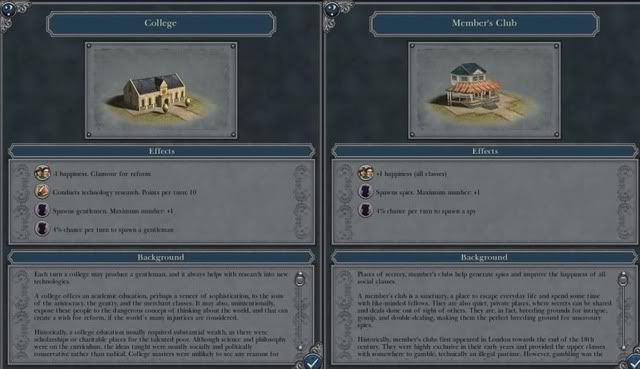 A college can conduct research for you and will spawn gentlemen. They work more or less the same way now as they did in E:TW. The member's club boosts happiness in the region and spawns spies, making it very similar to E:TW's coaching inns.
Industrial Centres
In your industrial centres you can build either a manufactory or a gunsmith.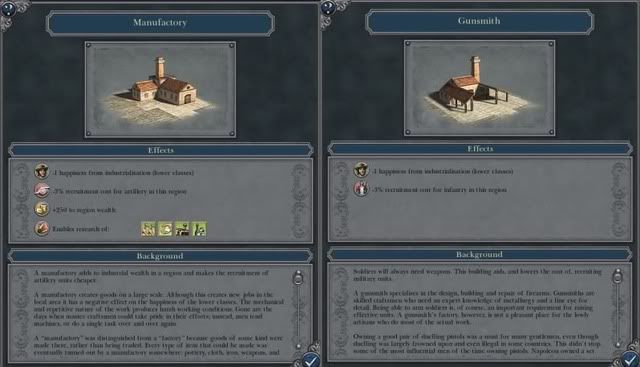 The manufatory makes artillery cheaper to recruit in the region it's built in, as well as adding a substantial amount to the region's wealth. The gunsmith reduces the cost for infantry recruited in the region. At first clance the gunsmith may seem vastly inferior, but the higher levels of this building are quite powerful if placed in a region you use as your main recruiting hub, and it can save you alot of money.
Commercial Centres
In your commercial centres you can either build a market or a supply post.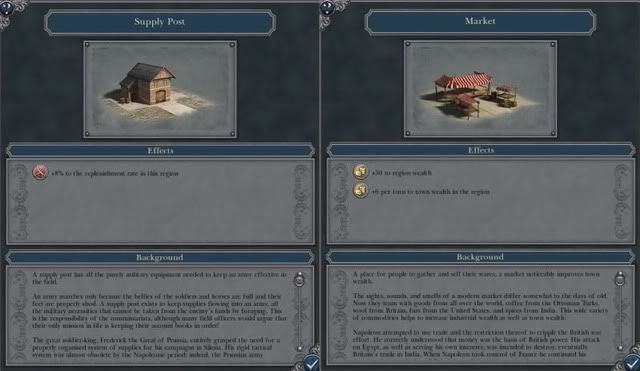 The market is a pretty straight forward building, it adds region wealth and increases region wealth growth. The higher levels of the market building (the merchant and banking houses) are quite powerful and can do much to boost your economic growth.
The supply post and it's upgrades only do one thing: increase the rate at which your troops replenish. They are therefore best placed in frontline regions where you know that you'll have to replenish casualties fast. I don't find these buildings to be that useful. To see a worthwhile effect you have to upgrade it to the second or third level, and even then you rarely need the bonus in replenishment. I generally prefer to build the market chain of buildings since their economic boosts are quite large. Given how the replenishment system works, the supply post should only be built in isolated and surrounded regions that are far from your other regions and under constant threat of attack. The replenishment feature is a new feature in N:TW and wll be covered in the "Armies And Navies" section.