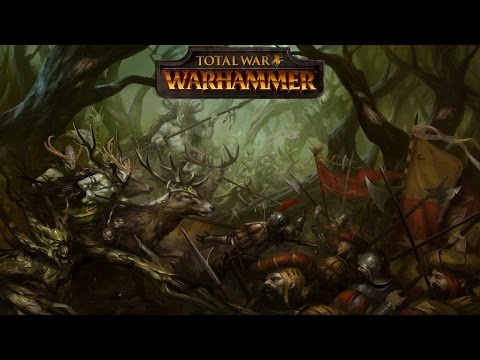 https://www.youtube.com/watch?v=kZjMS82En28
As has already been discussed many times on this forum, its very likely the Wood Elves of Athel Loren will be the next DLC race for Total War Warhammer. I think at this point most of us are expecting that official announcement to come in the next few weeks. This video will cover the origins of the Wood Elf race and the effect the Sundering and the War of Vengeance played in their inception, their Legendary Lord choices, army compositions, tactics and unit roster.
My ideas for their race mechanics are relatively straightforward and straight from the lore, and echo some of the ideas I've seen on Reddit and TW Forums. Incorporating World Roots and the Wild Hunt are incredibly important in making the Wood Elves actually play like Wood Elves.
LEGENDARY LORD CHOICES: Durthu – Eldest of Ancients, Orion – the King in the Woods, and Prince Araloth – Lord of Talsyn are the most likely legendary lord candidates. The Sisters of Twilight and Drycha – Briarmaven of Woe are also lord choices in 8th edition, but they're smaller players and I don't really see them getting added, as much as I would love to see them. Orion is THE head honcho, a literal demigod Avatar who could have some really cool mechanics differentiating him substantially from any other legendary lord. Durthu is the most important forest spirit and one of only two remaining ancients, the other being Coeddil, still imprisoned within the Wildwood. And Prince Araloth is the champion of the Avatar of Isha, and lord of Talsyn, the realm that houses the Oak of Ages in the heart of Athel Loren. These three are without a doubt the most important Wood Elf lord characters, and most likely to be added as legendary lord choices. I really want to see Durthu brought to life though, he's a gigantic Treeman with a huge sword and a special ability called Lamentation of Despairs where he literally shoots out manifestations of his endless sorrow in the form of ethereal spite creatures. Now CA is in a bit of a predicament, because the Wood Elves civilization, military, and economy all completely revolve around the changing of the seasons, and at the current moment, seasons don't exist in Total War Warhammer. My hope is that seasons are introduced alongside the Wood Elves DLC, because it would make Asrai mechanics much more logical. Mechanics like the Wild Hunt, called by Orion every midsummer, where Wood Elf armies could get huge morale and attack increases while getting double the movement range, similar to Crusading armies in Medieval 2. Winter could cause debuffs to Wood Elf recruitment capabilities, preventing the player from recruiting forest spirit units like Treemen or Dryads. Winter could cause King Orion to disappear off the map for 4 turns, waiting to be reborn in the Spring, but to compensate, he could be one of the strongest lords in the game during the time he is awake, massively buffing Wood Elf military capabilities and economy.
NEW MECHANICS: There are two mechanics I think Creative Assembly HAS to implement to make the Wood Elves feel really unique, and accurately reflect the lore. The Wild Hunt is extremely important to Asrai culture and needs to be in Total War Warhammer. It should be implemented like a Blitzkrieg crusade mechanic, where the Wood Elves get a ton of battlefield and recruitment buffs and large increases to the amount of ground they can cover for a limited amount of turns. There should be a list of 2 or 3 settlements somewhere on the map that you're tasked with looting or razing, you'll have a certain amount of turns to get the job done, and then return to Athel Loren. It would be really nice if you got reduced or negated diplomatic penalties during the Wild Hunt, things like trespassing penalties shouldn't be a thing, because it should allow you to strike out through neutral territory to get to your objective, and hopefully allow you to fight a variety of races. Otherwise you'd always end up running through Bretonnian territory and racking up diplomatic penalties, which would be annoying and always lead to war with your neighbors. The other mechanic I'd really like to see is something meaningful tied to the World Roots. The World Roots are the tendrils from the Oak of Ages that stretch throughout the Warhammer world, some of them reaching as far as Ulthuan, and these allowed Durthu to make contact with the Elves of Avelorn long before they ever came to the Old world. The World Roots could be tied to your spellweaver or mage characters. Basically, you send them out to a territory you want to attack, and for 5 or 10 turns they channel their magical energies, funneling them into the World Roots and effectively bringing them back online in that location. This action would create a portal, through which Wood Elf armies could effectively teleport, quickly striking out to attack a settlement, and then warping back to Athel Loren. At the same time, your economy could be tied to bringing these World Roots back online, creating magic forest wherever these portals spring up, supplying the world with powerful spirits that boost the amount of money you make. As the Wood Elves care much more about their connection with the natural world, rather than how much gold is in their coffers, I think it makes sense to have their economy based on this connection. The more World Roots and forest you've spread, the more "quote unquote" MONEY you make.
PLEASE GOD NO MORE CORRUPTION MECHANICS: I don't want the forest spreading to be a corruption mechanic that leads to attrition or public order penalties for other factions. Enemy units should DEFINITELY take attrition in Athel Loren itself, but I don't think that's necessary in the regions you bring the World Roots back online. I think the idea of a "Forest corruption" mechanic is tired and rehashed, doesn't make much sense given the lore, and would be a really bad gameplay choice. I have no desire to see Wood Elf armies marching through human lands "corrupting" it in the same way Vampire Counts or Chaos armies do. In fact I will literally cry if CA makes forest corruption the same as Chaos and Vampires. I'll be really, really sad. I dont want this to happen.
And I think the World Roots feature would answer how to handle the Wood Elves and the regional occupation mechanic. They cannot be a horde race, because they have many settlements in the realms of the great forest. But by the same token, they really shouldn't be occupying human settlements or Dwarf holds either. This is why I think the World Roots mechanic could be so important. They buff your economy, encourage you to strike out and explore the Warhammer world, and interact and attack many different races. In this way they aren't tied to any particular nemesis faction to occupy, its pretty lore friendly, but also makes sense in the scheme of Total War Warhammer gameplay as well.
Now the idea obviously needs refinement, there are I'm sure better ways to implement it, but I think the core idea of the World Roots is very sound and could make for a very interesting, dynamic, and diverse campaign. And its definitely a better solution than reskinning the already existing mechanics in Warhammer and trying to fit them somehow into the Wood Elves faction. I don't need to see another Corruption feature or another Brayherd/Waaagh reskin.
I really want to see evolution and continuous improvement as these DLCs roll out, and that means not rehashing the same mechanics over and over. The Wood Elves should not play or behave like any other race currently in Total War Warhammer.