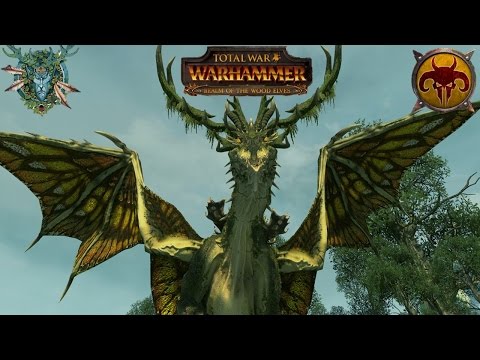 https://www.youtube.com/watch?v=exxAc24AUi4
So I've gotten a chance to play a bunch of custom and multiplayer battles with the Wood Elves thus far, and really been enjoying their playstyle. I'm working on a full DLC review that I plan to have up sometime tomorrow, but based on my games so far, they're about what I was expecting. And I was expecting a lot ;P
They have cost effective and damaging archers in the form of Glade Guard with Starfire Shafts, they have relatively cheap and very tanky monstrous infantry in the form of Treekin, and great lores of magic to work with. Where the Wood Elves really shine are the Lord and Hero choices, and the fliers. I think the female Glade Lord with Prey of Anath Raema is one of the most versatile and awesome lord characters in the game. She has been a joy to use on multiple occasions, just so much utility and damage and mobility. The Great eagle has a huge amount versatility and mobility for 900 gold, and really help round out the Wood Elves roster in air engagements, where I think they thrive as a faction.
I'm a little disappointed with the Waywatchers, for 1200 gold I think they just dont nearly have enough damage or utility to justify spending so much. Especially when it can be so simple for a cheap flying unit or Warhound to sneak through and wreck their day. I wish Wild Riders had a more devastating charge to reflect the tabletop, but they are still a versatile unit and fantastic for murdering routing troops quickly and hammer and anviling the main line. Dont expect them to dominate straight engagements, they wont. This faction is (as we expected) very micro intensive and squishy. But I think that makes their playstyle all the more rewarding when you execute well.
Morghur is a monster in the games I've seen him. Regeneration and a huge HP pool keep him very survivable, and he can summon Chaos Spawn 4 times in a battle if you use his spells appropriately. Being able to effectively one shot a unit below 20% HP and put a full strength Chaos Spawn in their place is VERY strong.
Overall, really enjoyed the new animations and playstyle so far, and hope to have the full review of the DLC up tomorrow once I've played more of the campaign. Enjoy the replay!