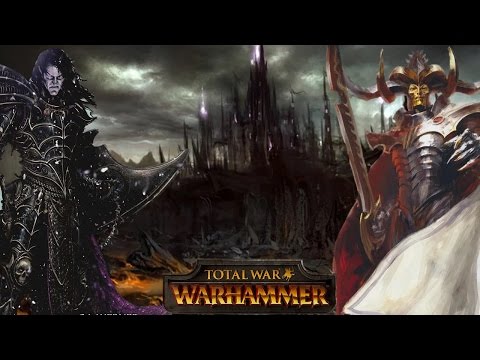 WALL OF TEXT TRIGGER WARNING
This time we're covering the Dark Elves of Naggaroth, a war-like and sadistic people known for their penchant for torture, and for their bitter, millennia long civil war with the High Elves of Ulthuan. So the Dark Elves, or the Druchii as they are known in their native dialect, are the outcast children of Ulthuan, an arrogant, scheming, and ruthlessly intelligent race of Elves. They watch the world with malevolent eyes, believing the world is their birthright, and the other races that inhabit it merely their playthings. They are the Dark, sinister cousins, the 2nd half of a race split by a brutal war long ago, separated by the greatest betrayal in the history of Warhammer. While the High Elves live, their will be no peace and no rest… not until their temples have fallen, their streets run red with torrents of blood, and their people driven into the sea. And as you will quickly come to realize, they are a very edgy, very angsty culture that holds a grudge almost as well as the Dawi themselves.
Their entire culture is based on Slaves, Sex, Sacking, Sacrifice, Scheming, and a healthy dose of utterly brutal torture that would make Hannibal Lecter squeamish. Politics and family life are characterized by frequent assassinations, fratricide, and an utter disregard for human standards of morality. But at this point that shouldn't really come as a surprise to you, that's par for the course in the wonderful world of Warhammer.
As is common with all 3 races of Elves, the Druchii are blindingly fast and agile, putting to shame even the most elegant and graceful of the other races that inhabit the world, but they can also be somewhat fragile. This means that Dark Elf generals cant brute force engagements with their armies in the same manner that a Chaos Lord or Ogre Tyrant would, and instead rely on complex tactics and strategy. And As a result, Druchii commanders are considered among the finest in the world, with a wide array of deadly tools to choose from, from the elite shock cavalry of the Cold One Knights, armored elves riding gigantic raptors into battle, to the unarmored but wicked Warrior priestesses of the Cult of Khaine, to the monstrous Kharibdyss and famed Hydras of Naggaroth.
My ideas for their race mechanics are relatively straightforward and straight from the lore, so lets go over those first.
GAMEPLAY MECHANICS:
Black Arks, Death Night, treachery, and slavery are all very important components of the Dark Elves, so I think these should form the bulk of the unique Dark Elf campaign mechanics as well.
CIVIL WAR AND POLITICS
- War between the 6 major cities and even some of the Black Arks is very common, in fact often times Malekith encourages it so that the weak perish and the strong survive, so I was trying to come up with some kind of rebellion or civil war mechanic that would actually be fun, but that's kind of the problem right? Having provinces rebel just because a Dark Elf general is disloyal or something isn't very fun, and some people think that Realm Divide in Shogun 2 and Civil War in Rome 2 are kind of contrived mechanics and not very enjoyable. But that's not everybody, there are plenty of people who really enjoy both of those, because they at least stop the steamroll and provide a mid or late game challenge, and provide you with something to think about outside pure expansion. So there are a couple late game options for the Dark Elves to provide some challenge. I think a Politics and Civil War mechanic like in Rome 2 Emperor edition could work, and would be very logical with the Dark Elves. So you want Malekith with say.. 75% of the political power, but you also need to make sure that the individual cities and the ruling nobles have enough that they don't feel like theyre being cut out, but not enough power to directly challenge Malekith. And if this balance of power shifts enough in one of the cities favor, then a Civil War begins in which ever city has gained the most traction, triggering some Dark Elf armies to spawn and taking the region with them. This fits the lore perfectly, as it is definitely somewhat common for Dreadlords to challenge Malekiths power, either in secret or in an outright show of force, and its already a mechanic that's been in CA games before. But if theyre gona add it to the Dark Elves campaign, they HAVE to also add it for the Empire and the Elector Counts as well, that could make their campaign so much more interesting in my opinion.
THE THREAT OF CHAOS
- In terms of a true late game challenge, absolutely there should be Warriors and Demons of Chaos armies attacking from the Chaos Wastes to the North of Naggaroth. The Dark Elves are literally on the front line against the Ruinous Powers, which a lot of people don't think about, because Archaon and Kholek and all the famous invasions come from Norsca. But the Chaos Wastes are huge, and they literally start right there to the north of Naggaroth, so that will definitely be a problem. The Hung and other Northern tribes are a consistent issue for the Druchii. The question is, will the Demons of Chaos be in the game when the Dark Elves launch? I personally think they wont be. I think the Skaven will be the 4th starting race, in which case we wont be seeing Demonic invasions until the 3rd game. IF the Demons of Chaos are a base faction in game 2, then Slaaneshi or Khorne invasions will absolutely keep you on your toes once the late game rolls around. There's no Kislev buffer state for you, once they spawn, your cities will almost immediately be under assault, which is actually pretty cool. Might be a nice challenge. I personally cant wait to see a Valkia the Bloody led Chaos invasion of Naggaroth, thatll be incredible.
SLAVE ECONOMY
- In terms of your economy, slavery is EVERYTHING, but its difficult to make sacrifices to Khaine when slaves are building your empire. So Naval Raiding stance should automatically gather slaves when near the coast line of enemy provinces, and gathering these slaves should give big bonuses to your rate of building and the money you get out of your cities. There could be a Cult of Khaine mechanic, where you gain Favor with the Cult through executing captives after a battle, which in turn gives you better Witch Elves and Khainite units, strengthening your people when sacrifice is high enough to sate the Lord of Murder, but remember that you gain economic and building bonuses by enslaving them post battle and sending them back to Karond Kar. So This would encourage you to keep raiding, fighting, and expanding, because with a shortage of slaves and sacrifice, people are going to get unhappy. So you'd have a choice to make there, do I want to buff my economy, or do I want to improve public order and please the Cult of Khaine. Now making sacrifices to Khaine would also play a huge role in Death Night, which would function similarly to the Morsliebb Events. You get HUGE bonuses on Death Night, as long as you have a lot of captured slaves. Your armies get replenishment buffs as soldiers filled with blood lust fill your ranks, and your Witch Elves and Khainite recruits get tons of experience, but if you DON'T have enough slaves when Death Night rolls around every 10-15 turns or whatever, your armies will take attrition and you wont get the buffs, demonstrating the Cult of Khaines displeasure with you, and the fact that the Witch Elves are still going to reap souls that night. If there aren't any slaves to kill, they'll kill your soldiers instead.
BLACK ARKS
- And finally, the Black Arks are mobile bases, floating fortresses that can sail the seas and provide you with raiding parties and naval power abroad. These Arks should be able to garrison navies and armies, replenishing them, and serving as a mobile invasion platform, anywhere in the world that has a coastline. Remember that they are essentially cities, so it would be awesome if you could recruit some naval themed troops there, like Black Ark Corsairs, the Kharibdyss, and maybe some basic stuff like Dreadspears and Bleakswords as well. This has the potential to be the most unique gameplay mechanic yet, one in which you can literally make armies on the fly, anywhere in the world. Want to siege Barak Varr, the Dwarf port? Send a Black Ark, build an army on the open sea, and raze it to the ground. That would be so much fun. I do expect Black Arks to be battle maps, and although I'm not quite as excited to fight on those as I am to fight in a Lizardmen temple city, there is no question, fighting a huge battle on top of a Black Ark will be a truly unique and memorable experience. Again I don't think it will be a Naval battle per se though, I think it would basically be the equivalent of siege battle. Black Arks are so big, they would take up most of a naval map anyway.
I think if some or most of those ideas get implemented, it will be a very unique and fun campaign experience that accurately reflects the lore, but let me know what you guys think?
Can you think of any other ideas that might be fun to implement in the Dark Elves campaign?