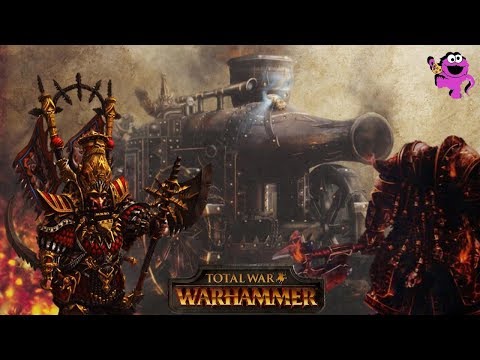 OVERVIEW
Its been awhile since my full Lore, Army, and Tactics videos, and I played a really fun game against the Dawi Zharr in Beginning of the End Times, which kicked my ass into high gear and made me want to cover these bad boys. This time we're covering the Chaos Dwarfs of Zharr Naggrund, an ancient, malevolent group of Steampunk Demonbinders in love with fire, bulls, slavery, and Babylonian hats.
The Chaos Dwarfs are essentially a terrifying reflection of what the Dwarfs of the Karaz Ankor could have become, had their circumstances been just a little different. They're similar in so many ways: their short, stocky stature rippling with muscle, their resilience and physical hardiness, their industrious nature and love of technology. And Their desire to create, to craft and build, to shape incredible works from simple raw materials and share it with the world. But where the Dwarfs of the Worlds Edge Mountains, those under Thorgrim Grudgebearer and Ungrim Ironfist and Kazador Dragonslayer, crafted majestic thrones and jewel encrusted decorations to adorn their great halls and demonstrate the power and culture of their race, the Chaos Dwarfs bent their work SOLELY towards malice and weaponry and the destruction of lesser races. They shared a very different kind of culture with the world. One of slavery, and death, and smoke belching monstrosities bound to demonic entities, that screeched and wailed, and echoed the torture millions of damned souls have endured in the warp throughout the eons.
Over the course of hundreds, even thousands of years, their interactions with the stuff of Chaos slowly twisted their bodies and their minds: they grew tusks and horns and wicked sharp teeth, and they grew hateful and evil, with a rampant desire to control flame and the hellish forces that rested beneath their very feet. Their military strategies combine overwhelming ranged warfare and terrifying Steampunk creations with Fire Sorcery and Demonic summons forged of pure molten lava and raging hot metal. And their armor and weaponry is amongst the finest in the world, ensorcelled by Hashut the Bull God, father of Darkness and patron deity of the Dawi Zharr.
If you're a fan of sitting back and unleashing carnage from afar with massive artillery pieces that cause Earthquakes, Pitch Black Locomotives equipped with gigantic cannons and small arms weaponry, or guns that shoot literal lava, the Chaos Dwarfs are the race for you.
They have an incredible assortment of powerful toys to play with, and we haven't even begun talking about their monstrous or infantry choices yet. Without a doubt one of the most unique and flavorful races in all of Warhammer fantasy.
Some Campaign Mechanics and Strategy
Your campaign start in Total War Warhammer 3, (which is when I'm expecting them to be implemented), will be pretty unique. There's only one major race further East than you, the Ogre Kingdoms in the Mountains of Mourn, and taking them out early will be a pretty big priority. Because once you've killed them and taken over their Encampments, you have the map edge to your back and can expand in any direction, without worrying about your flank at all. There will be tons of Hobgoblin and Greenskin tribes around the Dark lands, but your settlements should provide a really stable base of income and operations with which to expand into the Worlds Edge mountains. Mount Gunbad will be a high priority for the Brightstone mine and 1500 income per turn, and from there you can look to expand southwards towards Black Crag and Nagashizar. Hopefully we'll have Nagash in the game by that point so you have a major threat from the South. I can honestly see it being one of the easier campaigns just because of your location and economic base, it's a bit like starting as the Chosokabe in Shogun 2, with their great farms and geographic position shielding them from being surrounded and attacked from multiple sides. The question is, how will public order be implemented for the Chaos Dwarfs? I've never been a fan of huge public order penalties as a way of slowing down the player, its just not fun to sit in settlements for 10-15 turns waiting for public order to stabilize. But frankly, maintaining control over slave populations IS an important part of Empire building with the Dawi Zharr, so using Infernal Castellans or Bull Centaur Taur'ruks to put down insurrections might play a large role in their early campaigns. Slavery undoubtedly will be some kind of gameplay mechanic, just like im expecting it with the Dark Elves, but we'll have a much better idea about how Dark Lands slavery will play out once we see how its implemented for the Dark Elves.
How would you implement a slavery mechanic that would be tactically interesting and fun to play with?
One mechanic I'd really like to see that I don't think has ever been in a Total War game before, is the ability to become an Arms Dealer for factions, particularly the Norscans and Warriors of Chaos. So in the lore, the Chaos Dwarfs make a ton of money and gain a whole bunch of bad boy clout with the Ruinous Powers by selling them weapons like Hellcannons and Fireglaives and serving as mercenaries in their armies. The Northmen and Warriors of Chaos don't really have the patience or the skill to create siege weapons like the Chaos dwarfs can, and some of their armor comes from the Dark Lands as well.
Just as a quick aside, it is important for me to mention that the Fire Dwarfs consider themselves as separate entities, and frankly consider themselves ABOVE the Ruinous Powers, they don't worship any of the 4 main Chaos Gods and find it insulting when theyre conflated with Khornate Warriors for example. But the ability to create units like Hellcannons or Chaos Siege Giants and sell them on the diplomatic screen for serious cash or favors from other factions would add another dynamic to the, admittedly pretty boring and vanilla diplomatic system we currently have. Adding a bit more complexity certainly wouldn't be a bad thing, it fits with Chaos Dwarf lore perfectly.
And it could also lead into mercenary factions like the Dogs of War or Southern Realms being able to sell their services to the highest bidder and fight in other factions battles. Which would be such an incredibly cool game mechanic and a fun way to make loads and loads of money. Imagine recruiting Leopolds Leopard Company and then being able to go to the Empire in the diplomacy screen and say hey, want some badass mercenary Pikemen dressed in leopard skin? Pay me a lotta gold and then we'll talk about it.
I think the combination of powerful and unique looking monsters, a sturdy, heavily armored front line, meatshield tactics with cheap and expendable slaves, and the most devastating artillery in the trilogy makes for an incredibly interesting and diverse faction. I think they'll be one of the most entertaining races in the 3 games comprising this Total War Warhammer saga.