First of all I'm a huge fan of the way CA has handled the Lizardmen! They are a faction that has some of the best monsters, yet suffers from the rampage mechanic. I like how CA handled this, as Saurus Warriors for instance are strong but in the late game will be kited all over the map. And I do like the different units they can field.
However there were some minor things which I feel would make the Lizardmen experience even more fun. These are meant to make the Lizardmen's non-dino builds more viable in online battles, as well as make their Campaign experience more rewarding. And I was interested what everyone thought about them?
I made some posts on Reddit asking for feedback, and combined my ideas with theirs. Someone suggested that I forwarded them here, and see what CA thought about them. Also please don't hesistate to let me know what you guys think yourself, or if you have any ideas as well?
SLANN MAGE PRIEST:
This is my biggest issue honestly. I like how the Slann Mage Priests require both a ritual and a special building to summon, as they are meant to be the magical powerhouses of Warhammer. However, they feel really mediocre once summoned. I know we have to keep things balanced, but for such big requirements it would be nice to be rewarded, especially in the late game where your Oldbloods and Priests can ride dinos. I asked around on Reddit and made a summary of their suggestions, how would this sound? (See the changes below UPDATE)
https://www.reddit.com/r/totalwar/comments/7aa3gx/about_the_slann_mage_priests/
To sum it up my idea is to make the Slann Mage Priest more worth it in the campaign by giving them more and cheaper spell options, allow you to recruit older generation Slann based on your total Web strength, and also allow your Star Chamber to boost your Slann as well as your Astromancy Stance. As for online battles I was hoping to give him more spell Lore options and maybe make them treat all their spells as if they were fully upgraded like in the campaign? I added a combination of everyone's ideas in the post, and I'm curious what everyone thinks about them or if someone has some ideas of their own?
KROXIGOR:
I love how CA has designed the Kroxigor, yet I miss the amazing synergy that the Krox and Skinks had in the tabletop:
https://images.dakkadakka.com/gallery/2016/8/2/817696_md-Kroxigor, Lizardmen, Sking Cohort, Warhammer Fantasy.jpg
as the Kroxigor were designed for such a mixed unit. Perhaps they could gain a situational buff that only activates when Skinks are very close by, so that we could recreate that unit in a way? How does something like this sound:
https://www.reddit.com/r/totalwar/comments/77snds/kroxigor_and_skinks_synergy_from_tabletop/
This is just an example, but I would love it if the Kroxigor could give a small bonus to close non-monster Skinks, while receiving a small boon back. The idea is to make the Kroxigor x Skink Cohort combo more viable for both the mid to late game campaign as well as online battles. Keep in mind that despite the Leadership and MD bonusses they are still Skink Cohorts, so against elite infantry they would still get destroyed.
Also, perhaps we could get future Sacred Spawnings with Armor Sundering? In combination with the low armor piercing Skinks that would be amazing!
SKINK COHORTS (JAVELINS)
I simply love the concept of these guys! And they are just so much fun to use with their javelins! However they are sadly not that competitive, and giving them something like A) poisoned melee attacks or B ) a small true damage bonus against infantry on their javelins would make them a lot more viable! Personally I'd rather have option A then, as you can then choose to field them with Kroxigor as a more expensive yet poisoning melee combo.
TEMPLE GUARD
So I think the Temple Guard are in a good spot, though I'd wish that they could provide a small boon to the easily focussed Slann Mage Priest. Perhaps they could provide a weaker version of the Mirror Guard? Think 15% Ward Save (doesn't stack) to Slann Lords only who are within 20m? Just to add some very situational lore flavor to them. Jabba on his mighty steed wants to move from flank to flank, so he won't make the most use out of it.
TERRADON RIDERS AND SKINK SKIRMISHERS
I like how their models look, and they have such amazing potential for fun builds! However once you find the openings they sadly just don't deal enough damage to warrant their cost. Perhaps they could both gain just a few more models, and allow them to have more of a punch? Especially the Terradon often feels like it just lacks a bit of impact in online battles.
Alternatively, perhaps the Fireleech Bolas could trade in normal damage for more armor piercing damage? And then give the standard Terradon riders a bonus against large? To allow the former to make more of an impact against mid to high tier infantry units, and the latter to gain more impact by being a monster hunter.
BASTILADON WITH REVIVIFICATION CRYSTAL

So this is a bit of a exception, as I wanted to offer suggestions for the non-Dino Lizardmen units. But while I love the Revivification crystal it feels a bit lackbuster in the campaign. Perhaps we could reduce the charges to 5 (down from 10) and instead grant it a short area healing aura that doesn't resurrect models? So that you can't use the ressurection ability to ress units after you routed the enemies army, but also to allow you to send him into a front line engagement and help 1 or two units around it be a bit more durable. While keeping your healing charges for your elite units.
I got some more feedback and I came to agree that the Revivification Bastiladon is in a good spot after all, giving it the area heal would really overpower it.
Alternatively, perhaps the Solar Engine could have the aura from the Steel Faith mod? Where it gives a Vigor and Melee Attack (small) buff in a very small radius? Though I do think that the Solar Engine is in a pretty decent spot, so the buff would have to be low in order to keep the price the same.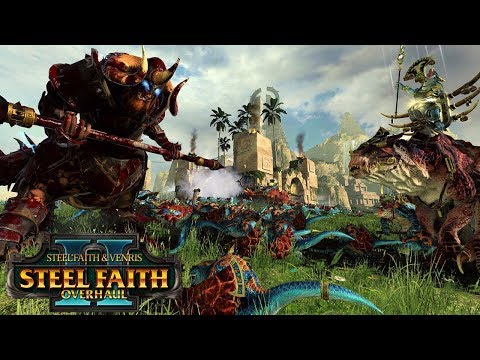 FERAL COLD ONES:
Perhaps their cost could be increased slightly (500 points?) while they receive a bit more HP to make them more durable, while also granting them a Anti-Large bonus? So they can both be used as cost effective anti Cavalry (they will still get destroyed by Blood Knights mind you) as well as anti Archers.
CAMPAIGN
As I discussed in my Slann post here:
https://www.reddit.com/r/totalwar/comments/7aa3gx/about_the_slann_mage_priests/
I would love to see the Slann Mage Priest make better use of the Astromancy stance. And lower the movespeed of the Astromancy stance for all lords, as you are so reliant on moving your lords 24/7, that you end up hardly using it. Also, perhaps once you've build the Slann Starchamber, your Astromancy stance could have a small chance to ambush as well? Very minor of course, but which could then be increased slightly for each Star Chamber you build?
Also, how about allowing you to gain bonus global levels per Star Chamber build for your Slann Mage Priest? That way the ritual and the special building that you require will be far more worth it, and you still have to invest into it by building a lot of Star Chambers to make the most out of these upgrades.
Perhaps you can also gain more missions to obtain your blessed spawnings based on your total Geomantic Web strength? So that in the late game you can have more Blessed Spawnings for all of your Lizardmen stacks.
----
These are my personal nit picks, but I do feel that with just these few changes and additions the Lizardmen will feel much more fluent in the campaign, and it would allow non-dino Lizardmen builds to be more viable as well. I based these ideas on my own personal experience, as well as the experience of other players on Reddit. And I decided to combine it all and post it here, to make a single big thread about it. What are your thoughts about these ideas? Or perhaps you have ideas of your own?