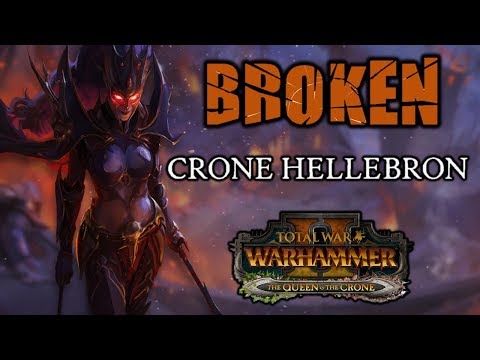 https://www.youtube.com/watch?v=ocbkQdq4QLQ
WALL OF TEXT TRIGGER WARNING -
So just to preface the video, considering it took myself and a bunch of other very experienced Total War players almost a week to notice the interactions Hellebrons Cursed Blade was having with enemies, I dont blame CA for not noticing this bug/issue. But I definitely want to call attention to it, because it will have a negative impact on both campaign and multiplayer if it manages to squeeze into the final release, and/or isnt patched quickly thereafter.
In Total War Warhammer 2, the text explaining how the Cursed Blade actually works is pretty confusing, but what its saying is, when enemies are losing combat to Hellebron, She nukes them….Its that simple. On paper, a beautiful idea, very admirable that CA has worked to keep true to her tabletop special rules, and this is one of the best ways I can think of to represent that. Enemies are failing in their attacks against her because shes Winning combat, so they take damage, exactly like her TT special rule which dishes out Strength 4 hits to anyone who rolls a 1 while attacking her. The problem of course, comes in the implementation of this special rule.
Essentially, any time Hellebron enters melee combat and makes a successful attack, whether that be against a single entity lord, monster, monstrous infantry, or infantry formation, she will pass on an HP drain debuff that will take between 600 and 1000 health away from that unit. Even if she makes a single attack against a single model on the edge of a unit of clan rats, she can sod off and watch as the entire unit take a 600+ damage nuke.
This is why she has been blending enemy formations so easily, she can quickly make a single attack against multiple enemy units in quick succession, rack up close to 1000 damage on each one, and keep using the mass and mobility of the Cauldron of Blood to nuke entire armies into oblivion in a minute or two.
So while there is absolutely nothing wrong with Hellebron being able to to wreck infantry formations, (which her stats and Gaze of Khaine already allow her to do) the Cursed Blade sends her completely over the top into broken territory, where she literally doesnt even have to be in melee to watch as every unit type in the game just melts. The only prerequisite, is that she be "winning" combat, which is not hard at all when you have the Blades of the Blood Queen Executioners with Guardian Passive and a unit or two of Black Guard deathballing alongside her. If she makes a single successful attack, say goodnight to 1/6th of your HP every 30 seconds or so.
So I think the Dark Elves are going to be very strong this patch, quite near the top of the tier list, and I think that's fine, completely unsurprising. They were already a good faction, and got a bunch of new, cool toys to play with. I don't think much else needs to be touched right now. We need many more games, with a much larger player base, to see how the campaign and multiplayer meta games shake out. So I don't think we need drastic changes…..But I think its quite apparent, that the Cursed Blade is not working properly right now, and on top of an already pretty insane DPS blender lord, its not fun to play against, and its going to be a bad thing in campaign and multiplayer.
Now obviously I want to preserve the flavor, uniqueness, and variety of units and lords. Asymmetrical balance and the vast differences between factions is what makes Warhammer what it is, why its so appealing. But At the end of the day, single player still needs balance as well. If the game is way too easy, people are going to get bored, and theyre going to stop playing.
If Kholek can fart and obliterate entire regiments with his gaseous expulsions from across the map, that's not a good thing for the game. If you love that kind of stuff, if you want to fulfill that overwhelming power gaming fantasy, by all means, download a mod that lets Grimgor one shot Hellpit Abominations, download a mod that lets Karl Franz call in his homies from the Golden Throne on Terra with some Battuhl Brotha Steel Rehn. That's completely fine. But that's obviously not CA's design philosophy behind the game, and they have shown a willingness and a desire to change things when they are exploitable, abusable, and make the campaign too easy. This falls into that category…for sure. No question in my mind. When a melee lord is able to drop nuke damage constantly, that's more powerful than Flock of Doom, or Devolve, with no resource like Winds of Magic tied to it, and she doesn't even have to be in MELEE for it to do its full damage, something is wrong. And I would like to see it get fixed. Its going to RAVAGE multiplayer for sure, its going to have a negative effect on singleplayer except for the people who don't want to be challenged in any way shape or form. And I fully expect that the balance team will be addressing it soon.
Other than that, been having a TON of fun with this DLC, theres a massive amount of content here, and I've been very happy with the vast majority of what I've played. I think you guys are really going to like it when you get your hands on it on Thursday