Hello all,
I'm coming back with another list of issues. Which, is presented in the form of a film.
Initially, I wanted to wait with this list a little longer, but I noticed quite a few issues and I decided that there is nothing to wait for.
Well, I made another movie.
This film does not mean that the previous movie has become obsolete. This movie is an
extension
of the previous movie. In this video, references to the previous movie appear. Both films should be treated as one whole.
Link to the previous topic:
https://forums.totalwar.com/discussion/220876/list-of-48-issues-very-well-presented#latest
Issues are found by me, or noticed in this forum and checked. They are all very accurately depicted in the form of a film.
I recommend watching the film while holding hand on the space bar. To keep up with the subtitles reading.
I am asking creators not scrolling the movie. Because, I introduced the problems very carefully and from different sides. It may happen that you see something that you did not realize. Maybe you can fix something that initially did not have a solution.
From formal things: I have all DLC and FLC. I have everything. All issues occur in the game without mods.
Link: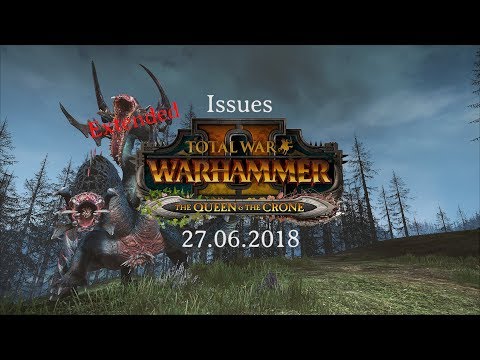 List of issues:
introduction (important) - 0:08
1. Broken 2D portrait The Great Mawherd of Bloodfjord - 0:25
2. Broken 2D portrait Shadow-walkers - 1:11
3. Distorted Fimirs fingers and spines - 2:04
4. Marauder on horses "T-pose" - 4:52
5. Problem with LOD, Witch Elves - 7:21
6. Helmet on the Manticore face - 8:16
7. The ruination of Cities lost texture of the rocks - 10:20
8. Broken texture on The Scions of Mathlann - 11:15
9. Charge animation on spearman units - 12:39
10. Executioners broken animation - 14:29
11. Malekith's broken sword animation - 17:27
12. Tree Kin eyes problem - 18:45
13. Broken Dreadlord animation - 22:22
14. Glade Lord special murder animation - 23:31
15. Damsels special murder animation - 24:37
16. Wrong bow model Glade Lord - 27:15
17. "Trembling" skeletons on Warsphinx - 28:22
18. Broken Isabella von Carstein animation on campaign map - 30:59
19. Problem with Lords voice - 31:57
20. Gray Wizard mouth problem - 34:32
21. Most of the elves mouths problem - 36:26
22. Problem with manual mode in artillery units (IMPORTANT) - 41:32
23. Sentences before the battle - 43:39
24. Throgg mouth animation - 46:37
25. Alarielle animation her hair on the eagle - 48:18
Additional issues - 49:22
Summary - 49:42
In the film, I focused mainly on graphic and aesthetic issues.
Why did I include a topic in this section? Because:
1. In the film there are also, a more general issue.
2. There are more people in this topic. (greater chance that someone will notice this)
The material was not made to slander the game. It was created to help solve issues.
I'm sorry for my English.
Greetings...