Alright so after seeing Republic of Play (former DarrenTotalWar) review / criticism on the latest update I left him a comment which I feel like I should share over here in continuation of my first post. Below I am gonna cut out the relevant parts and issues (for viewing the full comment , go to linked video)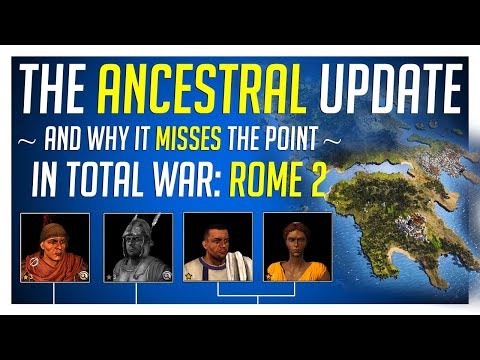 [Reference to my Thread in the forums :
https://forums.totalwar.com/discussion/222841/first-impressions-the-ancestral-update
]
* Family tree still doesn't provide the emotional connection and story telling it gave in Rome I - In my post I wrote about inheritance of traits however you focused on how the traits are displayed and you did a better work in conveying what I had in mind. Thanks to you it made it clear to me that the issue is indeed lies in the amount of traits , their display and how they are gained ! I think there should be unlimited gain of traits (only restricted by the years a person lives) and that the actions will dictate this gain - this is what I was lacking and this is why characters feel so disconnected and empty of personality.
To emphasize the point here is a picture which can show how to make a personality very visible and understandable for the viewer in a shot that didn't linger more than a couple of seconds !
d) Characters lives are indeed shorter and have less impact in Rome II , but there is maybe a small benefit for it now that the new update is out ! I feel like its very logical that if one would want to expand his control without advancing his offspring (which come of age at 16) he will have to take in people of different ages from different political parties ! What CA needs in order to make it better is to add Family Tree for the other political parties(which will add children and connection between them) and maybe add children from time to time to the other nobles tab for adoption(by events or by random chance). This eventually makes the lives of your children especially your Family children more precious !
Darren argued due to short lifespan not enough time is left to create bonds with army leaders, my argument is that maybe not all connections do need to be of greatest bonds and that having short bonds will help the player appreciate the longer bonds (family bonds).
e) Man of the Hour - I as well had great joy from this feature from Rome I and Medieval II ! I actually think there is still a simple solution in order to bring it back at least in some manner. At the moment getting characters into the 'Other nobles' can be done with recruitment / events / chance. With overwhelming number of political and military candidates of other houses it might be possible to encourage players to find other ways in order to get candidates ! My suggestion is allowing recruitment of a new candidate to the 'Other nobles' if you win a great battle and get the 'Man of the Hour' event !
A feature that its return is always welcome , this is just a suggestion on how to implement it back
f) For some reason CA doesn't seem to be trying to incorporate any great mods into their games even if the mods are doing a better job than they did :
* Population : I had been playing with 'People of Rome' mod which gave the missing aspect cities and the army compositions were missing ! it wasn't perfect but if CA would take it and improve on it with the same consistency of work they put into this patch I bet they can make it to function 100% as intended by the mod creators!
* Aging and portraits : 'AAA Generals' this one I just recently been introduced with and my mind was blown ! Different outfits for winter and summer , more portraits , levels impacts how the person will appear in the senate floor , 3 stages of aging , rank impact equipment ! Now I get this is more of a fluff and I rather CA focus on gameplay issues both of us mentioned however I agree with you that at the moment its hard to tell different generals apart, kids don't look like their parents, if you get a general with **** helmet you don't like nothing will change it, but the aging is the probably the most gameplay impactful and CA indeed needs to fix it.
This segment is the one that still bothers me the most. Most people either don't use mods out of lack of knowledge of how to use them or which ones are good and the level impact they have on the game and its balance. That or they just don't want to use mods cause they feel it will harm / restrict the game (can't fight online unless you coordinate with others for the same mods) Now thanks to the Workshop implemented in the Steam adding and removing mods had become a much easier task however due to the facts I just mentioned still most people avoid using them ( I didn't use mods for ages). Now this is unfortunate because clearly some mods are at the level of vanilla game design and the two I mentioned are definitely should be Incorporated ( with permission) as they have managed to out done the original creation ! I can't say enough good words on both mods ! and I am pretty sure there isn't a single person who can come up with a logical system to not incorporate those mods !
Just like I knew Family Tree was a possibility for Rome II after it came out (although CA lied and said it wasn't) I know the changes mentioned in the video and in my post and the thread I wrote are not only possible but also achievable in affordable manner and effort ! The only two features which will truly demand a lot of work to fix and I fear we won't see them being done are the Auto resolver (adding flexible results that still depends on stats) and the diplomacy which is still horrible ( and I wrote in my thread that its probably one of the few spots were you can feel the age of Rome II). Other wise with the changes me and you suggested I agree this game can go from 6.5 to 9.5 and even higher ! I think if being implemented Rome II will finally manage to surpass Rome I's legacy !!