Ok, this is a rather major issue that affects a lot how Wood Elves are played. Did some brainstorming, and with the help of a few other players, I think there's a rework that wouldn't hurt Wood Elves and would make playing against them a bit more interesting.
Currently, Forest Stalker bonuses include:
1) No penalty for large units
2) 15% MD bonus
3) +50% accuracy
Now, 1) and 3) aren't much of an issue. Plus 50% accuracy might sound scary, but in practice it, the downside of arrows hitting trees is much more impactful than bonus to accuracy, which is why you never see Wood Elf archers firing from the forests.
2) is very problematic. It encourages forest camping. While it can argued that pulling enemy into a forest fight is a skill, it's to abusable and encourages camping and blobbing.
What I propose is that instead of MD bonus, WE units get a flat speed and flat charge bonus increase that is active for a small period of time after they leave the forest. WE units could get an indicator like Vampire Coast units get with extra powder (could be a flashing Waystone for instance).
It would achieve 2 major things, A) it would no longer encourage forest camping - quite the opposite it would encourage leaving the forest to use the bonus, and
it would a be also make Wood Elves play a bit more thematic and loreful.
So, the numbers are just ideas, but something like flat +5 Speed and flat +10 CB that is active for 20-30 seconds after leaving the forest.
That way Wood Elves are encouraged to attack, launch ambushes and in general creates better synergies between their units. Instead of just being damage dealers, you can use your skirmishers to pull the enemy apart, make him open for charges and ambushes and similarly. It's kind of what Wood Elves do in the lore, as well. Hit hard from multiple directions, isolate enemies, disrupt their formations and so on.
That way Wood Elves are encouraged to leave forests and their opponents are no longer discouraged of fighting them in a forest.
So, Forest Stalker bonus would work as:
1) No penalty for large units
2) Flat Speed and CB bonus that's active for 20-30 secs after leaving the forest
3) 50% accuracy
I was partially inspired by this battle. It happened roughly a year ago, so a few patches back, when WE were maybe a bit stronger and GS quite a bit weaker. It was one of the most beautiful battles I've ever seen and generally a playstyle I'd like to encourage.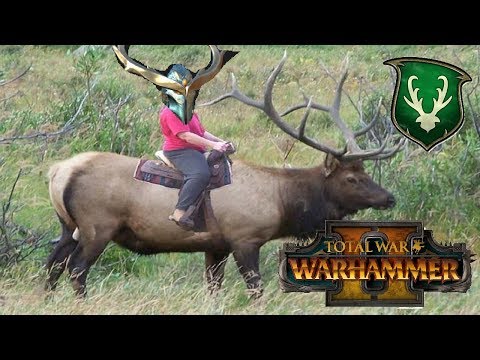 https://www.youtube.com/watch?v=zBhbBCWPBgI