Okay, I get that some people are disappointed that their favorite Legendary Lord wasn't picked, whether that be Chakax, Oxoytl, Gor-Rok, Tetto'eko, or Nakai, but I seriously do not understand why people are calling Tiktaq'to a "nobody", a "meme pick", a "lazy reskin", another Tretch or Ghorst, or any number of things that I frankly find ridiculous. So, let's take a minute to talk about this "trashy" pick for a FLC.
Tiktaq'to, the Master of the Skies of Hexoatl, is the preeminent Skink Chief of the entire Lizardmen race, ranking only behind Skink Priests and Slann. A powerful tactician and general, he knows no peers in the realm of aerial combat and hit-and-run tactics. Commanding squadrons of Terradons and Ripperdactyls, Tiktaq'to manages and directs airborne patrols and attack squadrons, pulling off hundreds of daring assaults that have brought superior enemy forces to their knees. Atop his Terradon, Zwup, he maintains the Lizardmen advantage in the skies and rains death upon the enemy.
Most prominent among Tiktaq'to's achievements was his role in the Seige of Hexoatl. With Lord Mazdamundi absent from the city, Tiktaq'to too control of the defenses and successfully held back the large Chaos invasion of Lustria since the Great Catastrophe, the event that caused Chaos to spill into the world. No Daemon or Chaos warrior crossed into the city without being cut down by the Saurus lines or torn apart by Tiktaq'to's aerial forces. Through the entire siege, the backlines of Chaos was constantly harassed, unable to escape the unrelenting attacks of his forces. Eventually, Kroq-Gar and Mazdamundi themselves arrived to break the siege, but without Tiktaq'to, the city surely would have been lost and the invasion would have poured into the interior of Lustria, leaving the remaining three Temple-Cities vulnerable not only to Chaos but also to the vile Dark Elves who constantly raid Lizardmen territory.
So yeah, that's the bulk of his lore in a nutshell. He's definitely not a nobody or a meme pick.He's a very important badass, just like the rest of the Lizardmen characters. There's also this really good video about him: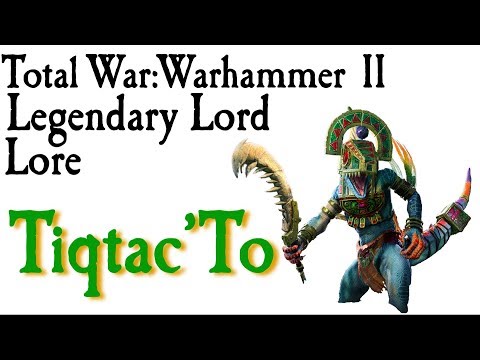 "Oh but he's just another lazy reskin!" Well, the same can be said for everyone else. Gor-Rok and Chakax are just reskinned Saurus, Oxoytl is a reskinned Chameleon Skink, Tetto'eko is a reskinned Skink Priest on a reskinned Slann palanquin, and Nakai is just a reskinned Kroxigor. There are things that make each lord unique, and the same goes for Tiktaq'to. Any lord sounds stupid and useless when they're called "just another reskin."
I don't, however, like the fact that one of the primary units he is focused on buffing, Ripperdactyls, are part of a DLC and not available to the people who just want to buy the DLC but want to play Tiktaq'to. Yes, he buffs Terradons more and you can still field an army of Terradons, but it's not very realistic to have a Terradon army without Ripperdactyls. Terradons are fragile and need to be protected. And it's boring to only have one unit. I get that it's a marketing play by CA to get people to buy the DLC, and I can't complain too much since I'm buying the DLC anyway, but it rubs me the wrong way that they would create a lord that all players can use but not give everyone access to the one unit that really makes his kind of playstyle really viable. It's like when they introduced Alith Anar as a FLC, but then you have to buy the DLC to access his units, the Shadow Walkers. At least he got a unique unit to mitigate that.
But other than that, it looks like CA has done a good job at translating an awesome character from the 8th Edition Table Top to Total War and making him very unique in the campaign. (Yes, he has 8th Ed. TT rules and a model. Heck, Mazdamundi doesn't even have a TT model.) Some tweaking is going to be required, but I'm looking forward to playing around with this guy.