Units such as skavenslaves (swords, spears and slings), peasant mob and zombies have a limited usage in campaign as they are too slot-inefficient to offset their lower cost and basic recruitment requirements. Therefore something has to be done to improve these units and give them a clear role in campaign. This idea concerns these units in campaign only and has no impact on multiplayer balance.
So what is the idea?
I purpose that skavenslaves, peasant mobs and zombies can be deployed in "unit pairs" consisting of 2 identical units. Every unit pair takes up one unit slot in the army, enabling you to command two units instead of one unit in that specific slot. The units will move and attack together in order to make them manageable in larger battles.
This idea would give expendable meatshields a role as an effective meatshield in the army. They would provide more hp per army slot as well as being able to cover a larger area than elite and standard units. This will enable Skaven, Vampire Counts and Brettonia to use these meatshield units to protect their more valuable units in a slot-efficient and cost-efficient way. Using these units in pairs they could defend their front line from charges and e.g. gunfire. However, the pairs have a cap in order to reduce the possibilities of exploits and to make sure that they do not cause performance issues.
I would argue that it can enable new and exciting army compositions which utilizes slot-effective and cheap meatshields. At the same time a system like this could open up the possibilities for a more creative approach to balancing as CA can intentionally create weak units that are meant to be used in pairs. To summarize these points I believe that this idea is good because:
• It provides a clear role for expendable meatshields
• It enables new and exciting army compositions and tactics for campaign battles
• It paves the way for a more creative approach towards unit balancing in Warhammer 3
Technical details:
General movement: The units deploy as an unlocked group of 2 units with a set distance between each other. They attack as units in a locked formation. However they are not grouped together.
Combat and hp: The units have individual health bars and model counts.

Leadership: Leadership is shared between the units, where they will have the lowest leadership among the two units. Both units break and rally at the same time. Damage taken leadership debuff is calculated as damage taken of the entire pair in relation to the hit points of the unit pair.

Buffs and debuffs: Any buffs or debuffs will affect both units at the same time. Single target damage over time will only target one of the units.

Healing caps: Each unit has an individual healing cap. This means that you are able to heal each individual unit to the heal cap respectively. The unit pair counts as one unit in regards to aoe healing caps*. This means that you can heal a maximum of 3 entities, where a pair is treated as one entity. This is to reduce micromanagement and make healing easier when using unit pairs.

Groups: A unit pair can be grouped with other units and behaves as if the entire pair is one unit in the group. The only exceptions are attack orders where the pair will attack as a locked group, even if it belong to an unlocked group. The pair will move as a locked group if it belongs to a locked group.

Caps: There is a cap of how many "unit pairs" you are able to bring. I suggest the arbitary number of 5 unit pairs per army as the base cap. This means that an army can contain up to 5 "unit pairs" as the standrad. Certain technologies and skills in the general skill tree may increase this cap.

Sieges: The unit act as a locked group when deploying on walls, scaling walls and issuing attack orders on walls.

Recruitment: When recruiting any of the aforementioned units you recruit them normally. When you add any number of units which makes a pair possible they will automatically appear as a pair. The unit which is currently recruited appears below and in front of the unit which was recruited before. If your army already contains a unit the first recruited unit will appear in front of the existing one. When creating a unit pair from a unit with experience and a newly recruited unit the experience will be the same across both of the units and have the same value as if the two units were merged into one unit.

Upkeep: The upkeep of a pair is twice that of a lone unit.
Visuals:
This is what I have in mind when it comes to design of the unit cards of a pair. The first picture is a zombie pair in a battle and the one below shows recruitment of a zombie pair. Light blue shows where the turn time of recruitment will be displayed.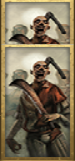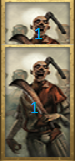 Do you think this is a good idea? Do you disagree? Do you believe that it can be improved? Feel free to comment and give me your thoughts and ideas. Thank you for taking your time and I look forward to your input!