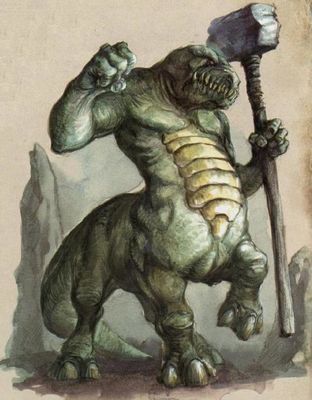 LORE:
Zoats are powerful wizards, able to tap into the Winds of Magic in an instinctive manner, rather than through study and ritual. Whilst this means that a Zoat will never prove as versatile a wizard as an Elf, or even a Man, their innate control over the lifewind, Ghyran, surpasses all but the most learned High Elf Mages. Indeed, many a Wood Elf Spellsingers will seek out a Zoat in order to learn from it, but as the Elves of Athel Loren find Zoats no less elusive than do other beings, very few succeed in their search.

In the ordinary run of things, Zoats are seldom encountered outside their woodland homes. Indeed, even within such places, it is rare to catch a sight of one. When intruders close or danger threatens, Zoats will rise the trees and undergrowth to crush and strangle interlopers, rather than take direct action themselves. In this way, Zoats can avoid detection, and even a single such creature can imbue a forest with a reputation so dreadful that even marauding Orcs and rampaging warherds will give the area a wide berth. Where sorcery alone is not sufficient, the Zoat will leave the shadows to enter the fray personally, knocking the invaders to the ground with sweeping blows. Once prone, the enemy becomes easy prey for creeping roots and vines, which swiftly entangle and throttle them. When eldritch storms erupt upon the world, it is possible to bind Zoats into service and only then will the creatures leave their reclusive forest homes.
To me this seems like a thing that could make itself useful on the Wood Elf roster. A monstrous magic/melee hybrid Hero or monstrous unit that can basically function as a Dragon Ogre Shaggoth for the Wood Elves. Lore of Life, combat buffs for nearby allies and causing fear and a faster monster than the treeman without having to bring in dragons. Something to lead on the frontlines in short.
What do you think guys? Would this be a good addition for the Wood Elves?