A big part of the Empire is their Knightly Orders and in future Empire updates they will likely play an important role as well. Those updates as of now, are still far off, but their shape can be defined to varying degrees. First and foremost is the Ulric-themed update that will finally unlock Boris Todbringer and Middenland. But also, there is a strong possibility of an update unlocking Averland and Marius Leitdorf with a campaign focused on beating Vampires. To both of these factions, there are knightly orders that can be argued to fit into the updates with varying credibility, so I thought we could have a discussion about which orders have a chance of making it in. Lets set the stage.
Currently there are 4 Orders in the game, in one form or another:
Reiksguard
and
Blazing Sun
are standard recruits
Knights of Everlasting Light
and
Knights of Morr
are state troops of Ostermark and Sylvania respectively.
4 Orders are not a bad start, but more are all but guaranteed to come. Lets start with the Middenland update:
Knights of the White Wolf
are basically a given alongside its variants like the Teutogen Guard. The most iconic Ulric-themed units for sure. So these are basically already confirmed. The big question is will they be joined by others?
Knights Panther
- My answer is yes, the Knights Panther. They are also rather iconic in the Warhammer world and are unquestionably linked with Middenland, in that they form the bodyguard of Count Boris Todbringer himself. And to add more incentive, the Knights Panther Chapterhouse is already a special building available in Carroburg. To not include the actual order itself would just be strange.
Beyond that, there are no major and distinct orders specifically linked to Middenland. The other Ulric orders are located further north. So lets instead look south to Averland and see what Orders can form candidates to help Count Leitdorf in Sylvania. To me, there are 3 main options that are either linked to Averland itself or stationed on the borders of Sylvania with the mission of hunting Vampires:
Order of the Black Bear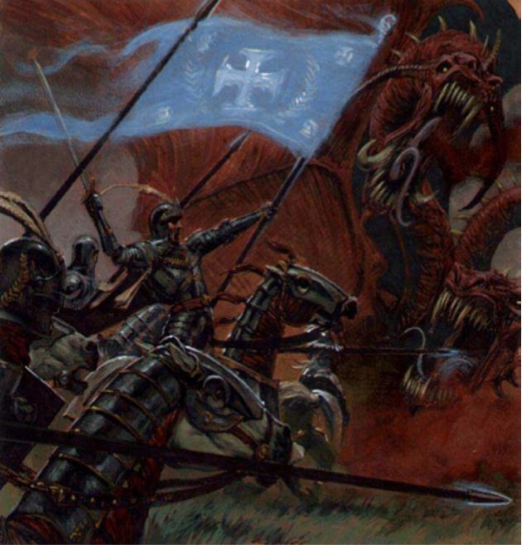 https://warhammerfantasy.fandom.com/wiki/Order_of_the_Black_Bear
This is the Knightly Order that has the closest links to Averland itself, but it is also the Order that I think shouldn't be included in this update. Their models basically look like a combination of the Reiksguard and Blazing Sun and they fight with lances. That's something the Empire will have in abundance by this point (regular Knights, Reiksguard, Blazing Sun, Everlasting Light and probably Panther). Plus, they aren't really known for fighting anything except themselves in tournaments. So the Order with the closest link, but not a practical one.
Knights Raven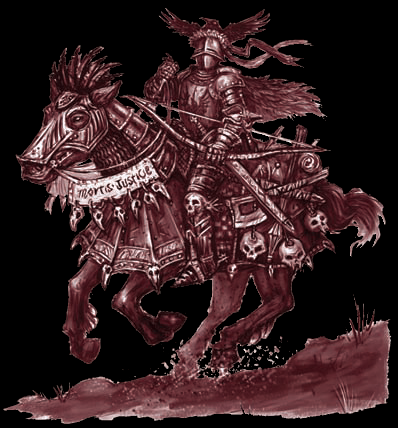 https://warhammerfantasy.fandom.com/wiki/Knights_of_the_Raven
The Knights Raven is the militaristic extention of the Fellowship of the Shroud, an Order that is dedicated to the destruction of all undead. Their headquarters is located in Siegfridhof, a bordertown between Sylvania and Stirland, which makes them an excellent choice for an anti-Vampire Empire campaign. Although I can't find a reference to it, their visuals indicate that they use bows, which would open up a new nieche in the Empire's cavalry: heavily armoured bow cavalry with magic damage. Skirmish cavalry that can also double as heavy combat cavalry, especially against Undead. This Order and the following I will bring up I see as a natural inclusion into an Averland anti-Vampire update for the Empire.
Order of the Sacred Scythe
https://warhammerfantasy.fandom.com/wiki/Order_of_the_Sacred_Scythe
The Order of the Sacred Scythe is a more obscure order, but the one I think could be the most thematically appropriate in accordance with the Vampire hunting that Averland's campaign will be. The Scythes patrol the Stirland border and its their sacred mission to root out undeath and make it properly dead. They fight with Scythes, which in-game would probably be highly magically damaging and anti-infantry, perfect for cutting through hordes of zombies. A distinct Order in both appearance and fighting style that very well could be the selling point of a DLC.
So in conclusion, my take is that we will recieve 4 new orders: White Wolf (+ variants), Panther, Raven and Sacred Scythe.What do you think guys? Are these Orders possible or do you see some others making it in?