Dear CA,
I would like to express my deepest gratitude for the amazing content your organization has made for us, all the hard work did pay off, and Warhammer for me is the best game ever. However, it has come to notice that my favorite the Dwarfs are in dire need of an overhaul. All Warhammer 2 core races have received two or even three updates. Even old factions like empire and green skins received major updates. Dwarfs have received a minor update in the forge and giant slayers. However, the current community all agree that dwarfs are being either too bland. Yes, they received all units from the army book. Content creators such as ItalianSpartacis, Zerkovich, Great Book of Grudges, and a dozen of players all believe Dwarfs can be special and unique in a lore friendly way.
1.
Proof:
https://warhammerfantasy.fandom.com/wiki/Earth_Borer_Mining_Drill
First of all, please do not add more infantry units for dwarfs. They have enough infantry as it is. Adding more infantry would make the dwarfs even less flexible. Prospectors with drills as infantry seem nice but I believe earth-boring mining drill machines would be better. People argue dwarfs do not have any steam tank/doom wheel war machine. In the lore, there are these massive earth-boring mining drills with 6 wheels. These can have two variants. one as 4 model anti-infantry one and a single entity one. They should be high armor, high melee attack, armor-piercing damage, may have steam guns on sides. In the tabletop, Dwarf miners can be used to dig under enemy war machines and intercept.
For total war, this would be hard to implement. But to represent this mechanic, why can not steam drills summon a unit or two of miners. Imagine Dwarfs with miner summons to destroy artillery and missile or flank enemies from weird angles. Dwarf because they do not have any cavalry or monsters, can not easily flank artillery or missiles. Also please do not make them slow or something, in lore, they could just dig underground and emerge later. Maybe a hidden, hiding ability.
Also, people argue dwarfs lords are too boring with no mounts. Why not engineering guild masters and engineers that can mount earth-boring mining drills or gyrocopters or thunderbarges. Almost every other race has mounts. Dwarfs do not. Also, dwarfs need ground-based machines for war, Goblines have pump wagons. Skaven has doom flayers, stolen from Gyros. For a technologically advanced race, having no war machines on the ground seems illogical. And yes we have a lore-friendly solution for earth-boring mining drills. I also recall, can not find the source, but some Norse dwarfs used a mining drill machine to travel from Kraka Drak all the way to Karaz a Karak, battling goblins and foul creatures with bombs and guns.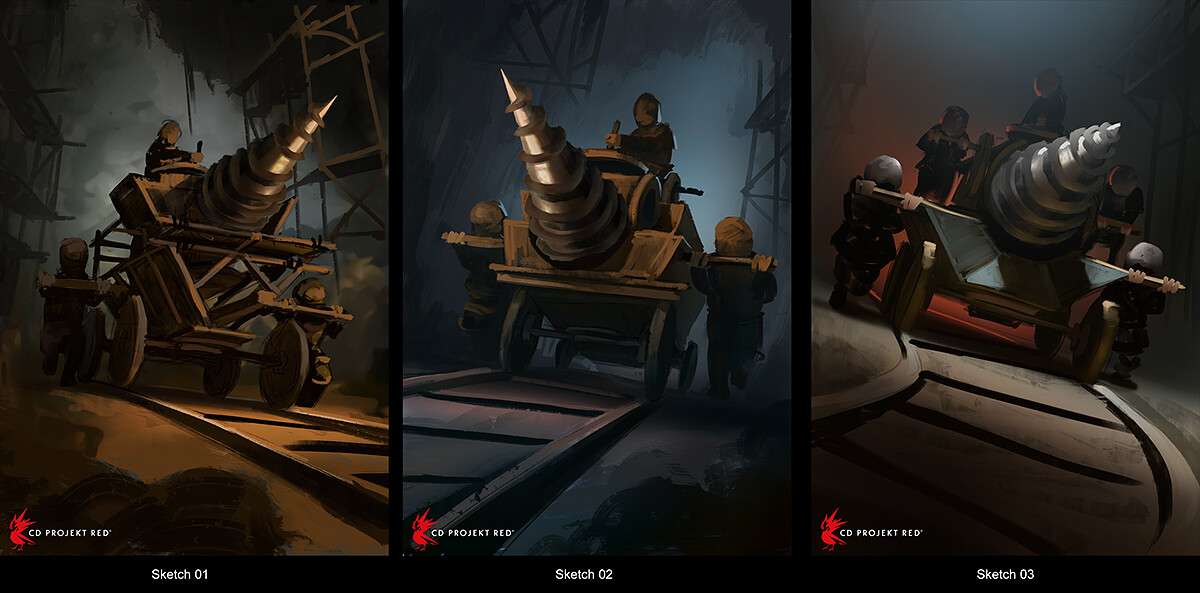 2. Many people have proposed that Rune Guardians and Rune golems(existed in the lore) would be good units. Others have argued these are not lore-friendly because Dwarfs can not awaken these constructs due to the vortex or the loss of the master rune of awakening. Personally, I believe this can be worked around. There are three ways
1) Instead of rune constructs, why not introduce them as mechanical engines of war. These are mentioned in the lore although vaguely. I believe CA has released new units outside of tabletop (Vampire Coast, Norsca). Also, empire engineers have mechanical steeds, so Dwarfs should have the engineering to do such. For variants, I think these mech suits or armored engines must be one anti-infantry(troll sized) with either hammers or axes, and a one single piece large units like the Rogue idol that is Anti-large. Not only will these units bring a variety of new units, but addresses to balance dwarfs in multiplayer, as means of providing mass to stop chariots and large monsters, which will get worse as game 3 arise. What would be even better would be a sort of storm-fiend unit, where these engines have drake fire or guns or cannons on them or throwing axes.
Proof and pictures :
"The latest contraptions to have been unveiled by rogue Engineers include war zeppelins bristling with guns, steam-powered war engines forged in the likeness of Dwarf Ancestor Gods, and the hissing, furnace-hearted beasts beloved of the Engineers of Karak Hirn." - 8th Ed
The cool thing is this unit has a lot of potential for imagination and versatility.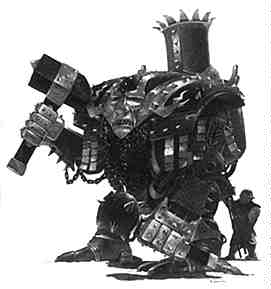 2) Also, if Thorek Ironbrow is a DLC lord, he could be the perfect dwarf for a vortex campaign. He is always going on expeditions to find Dwarf relics and runes. The Vortex is unstable during the vortex campaign, and Thorek could start in Karak Zorn. The weakening of the Vortex and the lost relics and runes found from Karak Zorn could allow Thorek campaign-specific units: The famed Rune Guardians and Rune golems. It could be an interesting mechanic for him. His quest is to awaken whole armies of these constructs. To make them fun campaign units: they could be strong like the special beats of the Greenskins: Lava spiders and Hydras and not included in Multiplayer, or they could also include them.
3. Thunderbarges and dwarf gun units(snipers and machine guns or grudgerakers)
Thunderbarges would also be a unique, fan-favorite unit. They were even in the army books as the 8th edition added them as alternative units. In the quote above, it mentioned thunderbarges are brimmed with guns. They should be able to mount artillery like organ guns and cannons. Also in the lore, dwarf air units have swivel guns(long-range like deck gunners and jezzails).
https://preview.redd.it/z75d5jk1l1p31.jpg?width=500&format=pjpg&auto=webp&s=ca95caa84d92ed131c7da21ee744096b0f3baeb5
In fact, I believe it would be fair for dwarfs to have different gun variants. Dwarf gun lines lack range. Even Skaven rattling guns have a longer range than thunderers(need to increase range). Jezzails are very hard to deal with dwarfs. If we improve the gun system of the dwarfs, they can deal with them. If dwarfs have swivel guns on their airships, why could they not have them on the ground? I believe this is not lore-friendly but adds more variance. In the lore, gyros are mentioned to have rapid-fire, battling cannons or guns. Gyrombombers seems to have this gun, but it does not do a 1000 damage. Maybe like 100. Also, it must be rapid fire.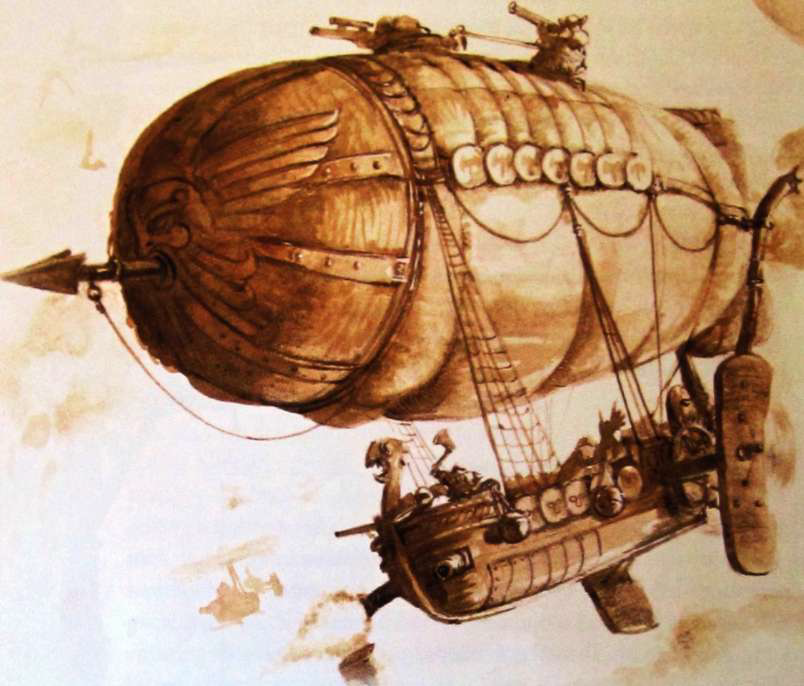 Honestly, I think it would be just better to make the Gyrobomber and Gyrcopter brimstone guns with machine guns, that way they would be far more capable of returning fire to the Skaven missile units. These war machines are devastating engines of war, right now, their damage is a joke, well the steam gun is okay. I also believe the bomb radius should be larger and be more punishing. Thunderbarges could have better bombs and better guns. Also, we already have the name thunderbarges, the Spirit of Grungi could be a special mount for Malakai Makaisson, the slayer engineer( personally, I think he should not be LL, nut a legendary hero). There is also the Wrath of Thunder, which can be a regiment of renown. Please make their bombs deadly, it is said thunderbarge bombs can obliterate an entire goblin tribe. Not like 5 orcs in the game.
Proof and pictures:
"The field swivel gun is a two-piece weapon (the gun and the stand) that can be moved anywhere by its two-Dwarf crew. The weapon can be assembled very quickly and then loaded with small lead balls, nails, gravel or other projectiles.[1a]"
Source
1: Warhammer Fantasy 1st ED -- Stone and Steel
1a: pg. 49
2: Dwarf ships use larger versions of the Gatling cannons found on their aircraft to engage enemy Flyers.[1a]
Source
1: Man O' War -- Sea of Blood
1a: pg. 32
https://warhammerfantasy.fandom.com/wiki/Gyrocopter
"Armed with a small rapid-fire cannon at the front, these aircraft have proven time and again their effectiveness against the enemies of the Dwarfen race"
"Armed with their impressive bomb racks and a nose-mounted clattergun, the Gyrobombers stream over the Dwarf battle lines seeking to obliterate the foe's largest formations."
If dwarf guns have long-range guns like swivel guns, and rapid-fire clatter guns on the ground, Dwarfs can compete fairly with Skaven. Also, if it still does not convince our lore, well just think about vampire coast guns. They have swivel guns. They got it from wrecked ships of the empire. Empire got their guns from dwarfs and dwarfs are mentioned to have swivel guns and clatter gunships, why not a unit of dwarfs, although smaller like iron drakes. If machine guns are too undwarfen, not too conservative, then just add them as special campaign units for Grim Burlokkson or Malakai. Why not a special engineer hero "Outcast engineer" who could have a single minigun that will delete infantry like that in Vermintide. Vermicide is lore-friendly. May include a debuff, where you have bad relations with other dwarfs and public order debuff for using untested technology. Why not grudge racers then? A sort of blunderbuss unit, shotguns that can mow down charging cavalry and infantry. Honestly, early game dwarfs can beat any greenskin army one, nut those numbers itz nutz.
That wraps the dwarf units. Adding the unique three war machines would honestly bolster the dwarfs to an S tier faction. It fixes the problem of their blandness, multiplayer weakness, and in a lore friendly way. Please do not add infantry units like "Doomseerkers" or "anvil guards" or "prospectors with drills". Dwarf infantry is great as it is now. The problem is we need war machines, large units, and a more unique feel. Earth boring drills can allow dwarfs to summon and flank. The engines of mechanical engines can bring more mass and fight large units. More dawn firepower with the thunderbagre and gun variants.
3. For Legendary lords, Mounts, Heroes, and lords
Vanilla lord and legendary lord: Dwarf Guildmaster. and Grim Burlokkson or Malakia. We only have an axe and shielded dwarf lord. Every other race has unique lords like ranged, mounted on beasts, or has magic. It seems Dwarfs do not have mounts to ride, magic to cast, but they do.
For a new lord variant: Guildmaster of the engineers guild: Skaven has a range heavy warlock master, why not a dwarf ranged engineering lord who can have two modes of firing. Grim invented the grudgeraker. He and the vanilla lord can have two modes of firing: short-ranged anti-infantry shotgun shot, and a long-range snipe shot. Also, these lords can have mounted. First is the regular gyrocopter with a twist: Armed with flame cannons, second being the above-mentioned earth-boring mining drills, and finally Thunderbarges. They could especially buff ranged and artillery units. Vampire coast gunnery whites replenish ammunition. Dwarf engineering lords, Grim, Malakai, and master engineers should be able to mount the above-mentioned war machines and replenish ammunition, increase ammunition, increase range, missile damage. Especially on the range. Grim Burlokkson invented a mechanical telescope that can be mounted on their eyes to increase his range. Also, dwarf engineers do not pack a punch in terms of their guns. Even with hunters and other range lords pack more punch. I think engineers and their lords need a special missile tree and abilities like Huntsmarshals.
"Grim Burlokkson has devised a telescopic sight that fits over his battle helm and better allows him to triangulate aiming computations, and those who have fired using his enhanced black powder and modified crossbow bolts find their range greatly increased. In emulation of his father's augmentations, Grimm has invented his own steam-powered gauntlet, thus increasing his own strength significantly. An eccentric, if somewhat erratic genius, the young Engineer torments his guildmates by attempting new designs, questioning past methods, and stubbornly refusing to give up new inventions."
His faction could have less upkeep for dwarf artillery and missiles, more ammunition, more engineer heroes, more special machines. He could also have a special engineering faction mechanic. Just a rip off "the forbidden workshop" would work fine. Why not thunderbarges refills ammunition for missiles?
"Malakai also created a crank-operated machinegun carriage".
Heroe option: A brewmaster hero and legendary hero in Josef Bugman. Brewmaster can totally change the game. Bugmans and his brewers are shown to use pony or mule carts. Why not a dwarf pony chariot type unit for only brewmasters or Bugman himself. Honestly, Bugmas is a mirror of Grom. He can also have a special Alcohol brew mechanic like Grom's Cauldron that biffs dwarfs.
https://i.imgur.com/6IYPiFv.jpg
However, the most important ability is healing. The Ironwarden's tankard has liquid fortification, and Bugman's rangers have healing. Dwarfs have no magic so no healing. Wrong, they drink Bugman's ale and that can heal them. Why not healing abilities like earth blood and regrowth, but not magic, it is alcohol. Maybe some abilities passive that can make enemies flammable. The healing and fire weakness makes him perfect as a hero for Grim or Malaikai, whose artillery with the flame weakness can make the difference.
Having a pony chariot would be awesome. If that is not lore-friendly, why not an alcohol fuel based carriage that can ram into lines and pour alcohol, heal dwarfs. Dwarfs can have mounts and healing, only in the dawi way.
Another hero option are dragonslayers or demonslayers. Personaly I think brewmasters will be better with their healing, they are offering more unique abilities. Besides that, a hero slayer maybe with some armour can be better for sniping beasts. But honestly, we already have Ungrim and Gotreck, we do not have brewmasters on chariots to alcohol engines.
Also, we need shield barriers for Dwarf-lords, they say dwarf foot lords keep getting knocked. Just give them shield bearers, to have mass like Thorgrim, so they would not be sent flying. Also, it seems vanilla dwarf lords have almost no armor-piercing. Yet the very same Orc warlords who have shields have armor piercing. Maybe a hammer two ax wielding variant. Also, Thorgrim's throw of power is supposed to be almost indestricatbe, capable of withstanding blows of demons dragons. Thorgrim needs more ward save, physics resistance.
3. Now a major issue: Runes and Rune lords
Dwarfs do not have magic. But they have runes.
1)We need a rune mechanic in the campaign and multiplayer similar to Throt's flesh laboratory and greenksins scrap upgrades. Honestly, dwarf armies should have rune, magical hammers that return, fire and lightning axes, and more armor. There are enough mechanics for Skaven and greenksins to buff units. Dwarfs have a ton of named runes. Engineer runes that can make artillery invisible, more accurate, more range. Why not allow runes that can contain bound spells. The Forge mechanic is good, but it is only for lords and is not custom. Dwarf runes could be a creative mechanic, that can give 3 runes for each unit armor, weapon.
2) Runes are not just abilities, but condensed magic. Rune magic should be a sort of lore on its own. Not just three abilities. Also, the anvil of power is just a throne. In lore, these are devastating magic artillery platforms.
"In 2473 IC[3b], after years of work to equip entire battalions of Belegar Ironhammer's army with new rune-covered axes and hammers and rune-struck armor [3a], he led a throng from Karak Azul in support of Belegar's assault on Karak Eight Peaks[3a][3c]. After breaking through the outer defenses, they took a portion of the upper city and fortified it against counterattack. They did so just in time: soon after, Night Goblins assailed them in an overwhelming tide, outnumbering the Dwarfs many thousands to one. The Dwarfs held, with war engines and crackling lightning from Thorek's anvil reaping a terrible toll.[3a"
Khatep can mount the soul of caskets. Thorek and Runelords need their anvils of doom as no chairs to sit but as magic artillery that can spur fire and lightning on enemies. Magic casters have cool animations. Dwarf runes do not. There should be runes that damage enemies like wind spells and vortex, but that is more controlled. The Rune of wrath and ruin is not just a simple slowing spell, it should spew sulfur and fire, it should damage units with cool fire and lave effects like such. I think like a wind of magic, rune magic can have at least six abilities with special rules and animations:
Rune of Oath and Steel: should not only increase armor but increase melee defense but also increase melee defense and physical resistance.
Rune of spell breaking; Could be cast for a duration, during which every spell is prevented from being cast
Rune of wrath and ruin: a damage spell with cool fire animation that burns and fried enemies in an area of a circle like a plague vortex
Rune of slowness: Makes units and targets and locks them. Maybe at least a net-like the net of amyntok effect would be nice
Rune of fury: summons crackling bolts of lightning to obliterate foes ( like chain lightning, just more controlled)
Rune of doom: Summons unit of etherial Edwards that cause terror and has a passive that buffs nearby allies with leadership, melee attack, and weapon strength
"Ghostly forms of ancient warriors appear amidst the Dwarfs on the battlefield, bolstering their ranks and their courage"
"Their anger at the loss of their mighty civilization and the desecration of their Holds fills them with a righteous fury that is terrible to behold, and their normally grim faces are set with an expression of black vengeance."
https://static.wikia.nocookie.net/warhammerfb/images/7/7c/Thorek_Ironbrows.png/revision/latest/scale-to-width-down/340?cb=20160521111435
https://i.pinimg.com/originals/f0/9d/aa/f09daa2bc28c5016bc425bd3d18e63c5.jpg
As a lord, Thorek is suited for an flc, His faction in the vortex can start at Karak zorn and have campaign only rune golems and guardians. His faction benefits could be more use of the runes for units and lords. Also, do not make him weak at fighting. I bet he should have a low melee attack and mid-level melee defense(he is a dwarf), but massive weapon strength. with like 400 armor-piercing, because his rune hammer klad brackack can glow red hot and shatter armour. His anvil of doom can give a map-wide physics resistance and magical resistance, that has magical attacks of lightening and rune abilities and spells.
People think dwarfs are boring with no magic. But Thorek, upgraded Runic forge that can enhance units with customization, and enhanced rune abilities with direct damage, nets, and summons can give dwarfs their own wind of magic, only in the dwarf way. Anvils of doom are not chairs, they have "doom: in their name. Also, it would be nice that upon dying runelords and thorek on anvil will blow up in a huge explosion killing everything in the surrounding like how Thorek did in the end times. A sort of ALLAH Akbar ability of sorts. In Mortal empires, Thorek could start in Karak Zorn or Karak Azul. Dwarfs desperately need the rune unit forge system to combat Greenksin scraps and their units. Throt's flesh labis a good mechanic similar to it.
Also, why not reward dwarf players for reclaiming lost holds like Karak Eight Peaks or Karak Drazh, that will unlock the rune upgrade system to one army. One hold unlocks one army upgrade. Having Karaz a Karak one army upgrade. Having Karaz a Karak and Mount Gundad would mean two armies. Thorek's s own campaign, reclaiming these lost holds unlock rune guardians and rune golems for him.
The last thing dwarfs need is an updated Grudge system and better underway. Dwarfs underway should be allows Dwarfs to pop on holds they own. For instance, Thorgrim should have the ability to pop to Zhufbar from Karaz a Karak, because he literally can with the underway. Bit of course, it should only be limited to dwarf owned and only the legendary karaks.
The Dwarf Grudge system can be intertwined with the rune system. Reclaiming holds are defeating greenksins listed in the grudge should allow Dwarfs more oathgold, which will be used to upgrade units with runes, and more gold. Also the grudge bar on tap is lacklister. At start, Dwarfs only start with one or two grudges. What if they start with 8 to 9 grudges for the lost holds, which will make players more interested in reclaiming these holds, which upon completion will yield massive rewards like gold, confederation withholds, runes, rune units. The bar should buff dwarfs with growth, public order, income if there are no grudge or there are mid level grudges, too much will yield negative one. Currently the buff is measley at best, and there are more debuffs than benefits.
Also, Dwarfs need a grudge mechanic in battle like gReenskins, elves , and tomb kings. If more and more dwarfds die or they kill more and more enemies, the grudge metre should reach maximum, that will buff dwarfs map wide with buffs to melee attack, weapon strength, missile damage, leadership, maybe less melee defense. Could make an optional variance whee dwarfs dying would make dwarfs more damage dealing but less tough, but killing more enenkies would make dwarfs more conifeindet with more toughness but less damage.
This was very long, but I have though long and hard , combing the ideas of the dwarf community. I am truly grateful for CA for bring Warhamme to life, and I believe these points and ideas can buff our favorite angry dwarfs.