Watched through a pretty nice video Turin released earlier today, theory crafting the Khorne monogod roster. I'd say he did a pretty good job and stayed conservative and reasonable in doing so, but it became pretty apparent that unless CA and GW are inventing brand new stuff for each list, even if they back port AoS units each roster each monogod list will play like an expanded WoC we have now. Let me explain...
With marks of chaos being used in every edition of WFB and the ET and later AoS expanding on mortal units, there's a decently sized list of warriors dedicated to each god that manages to dwarf the daemonic assets associated with each god. It's a given that we'll see marked marauders, Chaos Warriors and Chosen for each list in addition to more exotic things like Skullreapers and Putrid Blight Kings. The issue here is that even if those units look radically different (say Khornate Chosen look like the AoS Blood Warriors or have them as a variant, while Slaaneshi Chosen appear as they do in AoS) they'll still play identically barring some minor stat changes due to the marks, unless they decide that each god's warriors only get certain weapon loadouts, which IMO is completely arbitrary. In practice this makes the more exotic mortal units as well as the daemons they only unique options for each roster, but that leads to a second problem.
With the exception of Tzeentch's units and the bigger flashier monsters and chariots, each of the daemonic infantry and cavalry units available in the DoC armybook had cognates in the WoC book that were superior at the same job (it's even worse with AoS). Daemonic infantry is generally faster, but far squishier and less dependable than their mortal counterparts. The same issue applies to cavalry: Bloodcrushers and Skullcrushers are almost identical, preforming the same role in each army book, but in the same roster Skullcrushers are statistically superior, the same issue applies to Seekers of Slaanesh vs Hellstriders and Plague Drones vs Blightlords. The only daemonic units that don't get outshined by a mortal equivalent in combat are the ones that don't have anything to compare them too, such as furies, greater daemons, Soul Grinders, Skull Cannons, Hellflayer Chariots and pretty much all of Tzeentch's daemons.
So even if AoS units are being added in for each monogod army, and we're getting daemonic LLs to lead each faction, there is an extremely strong chance that at least 3 out of those 4 rosters are going to be overwhelmingly mortal units by the mid game every campaign. I don't mind all the missing WoC stuff added in so long as it also get's backported into the actual WoC roster, but there's a very real possibility each roster playing almost identically to the already existing WoC as well as the even worse possibility of the daemons themselves not getting the opportunity to shine on there own when paired up with the god's favored servants, effectively tokenizing them to obsolescence.
Here's Turin's speculation video if anyone is interested.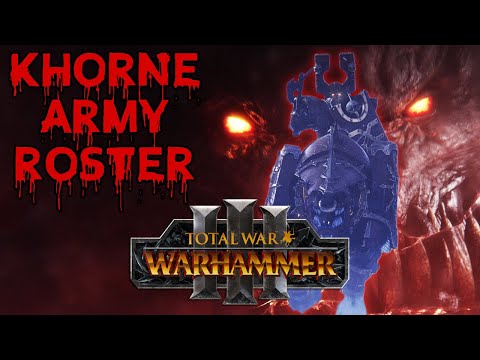 https://www.youtube.com/watch?v=QlV7AKA1xSU&ab_channel=Turin