Orion desperately needs to be updated, especially with Warhammer III on the horizon. He, along with several other dated Legendary lords, will have to be looked at seriously if the Legendary Lords revealed for WH3 are anything to go by.
In Warhammer 2 he serves no real purpose in the wood elf roster. He is slow, squishy, has a tiny amount of ammunition and since most WE lords now have vanguard his once unique selling point is gone. Now that the cloak of Isha's strength has been halved he cannot even function as a late game damage tank, though this should never have been his purpose. He was always meant to be a fast hunter and cavalry support character. Orion should be as fast as wild riders. Additionally he needs some balancing changes to accompany such a major speed increase and to rework him into a more interesting and useful lord.
I. REASONS TO HAVE WILD RIDER SPEED
1. Balancing and Army roster
After the massive nerf to cloak of Isha, which came with no compensation to rebalance him, Orion has nothing to offer as a Lord that can't be done better by other lords. Treelords are far tankier vs ranged and in melee and are life casters. Durthu has the added bonus of being a strong combatant and is the only manticore caster available on the roster. Glade lords work much better with WE armies in general, combining high mobility, good ranged and decent duelling ability for a reasonable cost. They are excellent all rounders. Drycha is the best at vanguard rushes thanks to her summon, aoe buffs and penumbral pendulum and is cheap enough to allow very wide armies. Spellweavers are another competitive choice simply due to being cheap mobile casters with an AOE stalk item and of course magic, and the sisters of twilight are very mobile ranged damage dealers who are hard to kill. Orion sits in a very awkward place where he can do a little bit of each of these things but badly.
To compete with the other lords Orion needs his own niche in which he excels. WE are missing a specialist monster/character hunter and a hard hitting cavalry supporter. To do this Orion needs to be as fast as wild riders. This will give him a purpose and enable more build diversity in WE armies and more variety in competitive lord choices. He is also just not a very interesting or fun choice.
2. Tabletop and Lore
Orion has been completely mistranslated from both TT and lore. In TT he was as fast as wild riders, more expensive than Kholek and had stats on par with greater demons, and had a long range bow attack in addition to his spear. No other lord has been implemented in game without one of their iconic primary weapons. Imagine Karl Franz without Ghal Maraz, Tyrion without Sunfang or Grimgor without Gitsnik. In addition his speed is the same as trolls, mammoths, Oxyotl and many other things he should easily outrun. This is completely wrong. In the lore he has always been about hunting monsters and leading his wild riders in the charge but he can't do any of these things that define him due to his troll-speed.
3. Animations
One common argument against increasing his speed is that the animations wouldn't work. This is false. In the first video we see Orion running at his current 55 speed side-by-side with him running at 81 speed (via campaign buffs) and higher. While running at 55 speed he actually looks like he is in slow-motion, as though he was running through water. When he uses foe-seeker to boost his speed up to 69 he starts to look better but still looks like he is being held back. At 81 speed and higher he looks much better and more natural, and there are no issues with his locomotion animations, such as sliding along the ground or making comically fast strides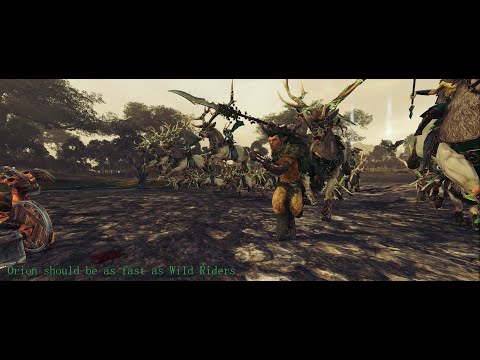 https://www.youtube.com/watch?v=1Ay1fb5ZIpo&t=7s
As a final proof here is footage of him (modded) running at 200 speed. Even at such breakneck speeds his animations function very well. There may be a limit somewhere but it's well outside the realm of sanity.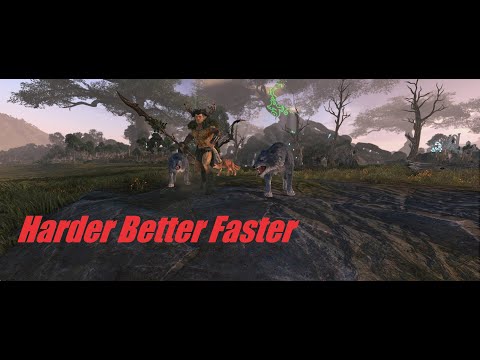 https://youtu.be/KJ0-REVQj1o
II. Core Mechanics Changes
To accompany Orion's speed increase to 85 there should be a few key changes to his core mechanics to prevent him from becoming overpowered or abusive.
Cloak of Isha + Unbreakable
In the past, when cloak had 44% wardsave on top of 20% physical resistance. The cloak of Isha interacted very badly with his unbreakability and made him very abusive for a while. However, now cloak is quite weak and should be improved.
The simplest way to make the cloak of Isha better and less of an annoying late game physical resistance stacking tool is to remove the 20% HP activation threshold of the cloak and change the effect to constant healing and spell resistance (+4hp/s with 30% spell resistance, +20% flame resistance). This is half the current healing effect but applied constantly (same as the basic regeneration ability). This would bring Cloak of Isha in line with other powerful self heal abilities like Auric armour, Jade Griffon and the Middenland Runefang (which have twice the healing but no spell resistance), and avoid stacking physical resistance in the late game. Also since this would be spell resistance in game three, magic attacks would still be very effective against him.
A passive trait should be introduced to keep the interaction between the new cloak and unbreakable balanced in late game situations. It should be based on his 6th edition special rule "Spirit of Kurnous":
I think the best translation of this in game would be to lose unbreakable, but to regain unbreakable at army losses and degenerate HP (at a rate somewhere around the level of Malus/Tzarkan's transformation) and also gain offensive stats. At army losses it would function as a thematic "last stand" mechanic and would be a fairly effective way to eliminate possible drawkiting scenarios. It also balances the constant healing from cloak of Isha quite well.
III. Balance Changes
In addition to the core changes above there should be several updates to his items and stats to better fit his role as monster hunter and cavalry lord, and to update him to the game 2 standard before Warhammer III launches, where he should be on par with greater demons.
1. Horn of the Wild Hunt
A very simple improvement to the ability is to change the percentage based charge bonus to a flat amount of charge bonus e.g.+15 CB, increased charge speed and an added fear causing effect, offset by giving the rampage trait. The horn should then be capped at 3 uses. This makes it much more useful for low charge units and the rampage means it will need to be used with good timing for maximum benefit.
2. Hounds of Orion
This ability, while not very strong, can have some use at times so I would keep it but also add a new unit, which can only be picked with Orion. The 'Hounds of Orion' unit would be a single entity monster similar to the description of Kislev's snow leopard, with the forest spirit trait, frenzy and fear+terror with high attack, low defence. They would be very fast and useful for hunting mages and other single entities and monstrous units but bad against most units. When they die they could trigger a cast of hounds of orion. ~1100g (similar to brood horrors)
3. Hawk's Talon
Hawk's Talon is the name of Orion's massive longbow, which on TT granted Orion a multiple-shot ranged attack so a better in-game implementation would be to change it to a magic missile ability with multiple projectiles, exactly how the "Hail of Doom arrow" item is designed. It has no missile damage, making it very poor for sniping single entities but has good explosive damage and spread, making it good vs units. This is a much simpler change than giving him new animations for a proper bow. It would be much more useful than the current ability and is a nice reference to his tabletop bow.
4. Support Abilities
To help in the cavalry support role he could be given an ability inspired by the 6th edition rule "Fury of Kurnous". It would be a single target buff similar to Whiplash or Fury of Khaine.
In addition he could get the "howl of the forest" passive AOE attack buff.
SUMMARY OF EXISTING ITEM CHANGES
⦁ Cloak of Isha: constant healing (4hp/s) and 30% spell resistance, +20% flame resistance
⦁ Horn of the Wild Hunt: Change to flat +15CB, +25% charge speed, fear and rampage with 3 uses (plus Horn animation).
⦁ Hounds of Orion: SEM (snow leopard style) hound locked to Orion's faction, with forest spirit, frenzy, terror. Good vs fragile single entities and poor vs units
⦁ Hawk's Talon: Multi-shot 200m range magic missile. 3 uses
⦁ Spear of Kurnous: Magic missile with good penetration. 2 uses
⦁ Add "Fury of Kurnous" and "Howl of the Forest" abilities
Stat changes
Outside the core stat change of +30 speed Orion should have a few other changes to update him and make him more useful and interesting, and reflect his source material more faithfully. These are buffs to make him more versatile rather than simply increasing his combat stats and turning him into a beatstick.
+300 cost. Puts his base cost up to 1900, into the Karl Franz/Kholek/Settra monster tier. With all items and abilities his cost would be ~3000.
+Increased base leadership to offset the loss of permanent unbreakable.
+15% missile resistance. With the change to cloak it would be safe to give back some of his lost missile resistance especially since he has only 30 armour.
+ Magic attacks (another trait he has lost since WH1)
+Add a Bonus vs Large to his missile attack.
+8 ammo. 12 ammo is too low for any lord with a missile attack, especially one who is supposed to be a hunter.
+1400 mass. This gives him a total of 3000 mass. For reference Taurox has 4500. More mass will help him pull out of infantry more effectively, something that is needed for his role as a hunter.
If you'd like to try out these changes, take a look at this mod.
https://forums.totalwar.com/discussion/297859/orion-rework-and-coldone-chariot-fix-mods#latest