Source: White Dwarf 159 (UK)
Gorfang was included in the 4/5th armybook Orcs & Goblins. In 6th edition, when GW kicked a lot of characters out of their new armybook formats, he still got updated rules over the GW homepage.
That was the last time we saw him with rules, but he sticked around in the lore.
Battle of the Jaws has some lore pages but I struggled to actually find Gorfang named there. It usually is either the Dwarf perspectives or Skarsniks. Maybe they worked Gorfang also in at a later point *shrug*
Source: Grudgelore (2008)
In 2013 the Black Library published a short story:
The King of Black Crag
In the end it showed how Skarsnik tricked Gorfang into going for an alliance instead of all out open war.
Also in 2013 we had the novel
Skarsnik
, which included the meeting of the two
and how their first cooperation wiped out a whole lot of Skaven which were driven out underground by Skarsnik, directly into the above ground waiting forces of Gorfang.
Again in 2013, the novel
Headtaker
was set up around Queek and his Karak Eight Peaks troubles.
But Queek also had there a encounter with Gorfang Rotgut,
which both survived.
2014 we got the novel
Thorgrim
where Gorfang played a big role.
At the end he was killed by Thorgrim.
While the novel has no timestamps, the 8th edition Dwarf armybook puts Gorfangs death around 2513 IC.
It is noteworthy that the K8P novels were bundled up in a Omnibus if someone wants to read them.
https://www.blacklibrary.com/all-products/warlords-of-karak-eight-peaks-2019.html
I assumed printed copies these days have to be hunted down on eBay or other second hand markets.
So, that brings us to TWW. Gorfang is mentioned since game#1 when Grimgor kicks him out of Black Crag.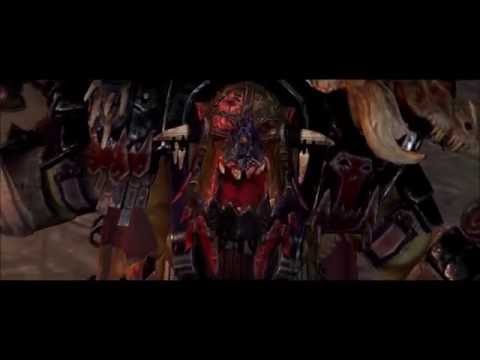 Gorfang is then around Black Crag with his Red Fang tribe and Grimgors first obstacle. Or Azhags, since both started in Black Crag. For ME not that much has changed here besides Azhag leaving.
It is noteworthy that ingame Gorfang
has sadly no own textures. He is just a generic Warboss with eye-patch
Since he is still "around" as a generic proxy and Grimgor victim, nothing says this has to stay that way. CA can always upgrade him to FLC LL status and do something useful with him. Personally I still think the best option would be to shove Grimgor into the Dark Lands for game#3 campaign or (Im)Mortal Empires. And then let Gorfang take up Black Crag since it should be rightfully his. But he could also just get unique model+minimal campaign stuff and then be shoved around the Worlds Edge Mountains if Grimgor is soooo important for the Bad Lands position.
Gorfang is one of the biggest Orcs around who even beats Black Orcs in duels. He is also quite clever for an Orc and wears a very heavy magical armor. Making him a very tanky foot boss by default. But since he could ride mounts, Boar, Chariot or Wyvern surely are up for the task.
Since he literally has a blood feud on his hand with King Kazador in person, Karak Azul and dwarfs as whole, it could also certainly be fun to see both as LLs in a rival DLC with some mechanics for each other. Like freeing captives from Black Crag as Kazador or razing Karak Azul as Gorfang and then wipe out every other hated dwarf. Of course chances of that happening are slim, so I think we can all agree that both characters as FLC additions would be good enough and appreciated even if tehy would not come with overly complex campaign mechanics and new additions.
For the Game#2 ME time being, Mixus Legendary Lords mods include King Kazador and Gorefang Rotgut.
https://steamcommunity.com/sharedfiles/filedetails/?id=1194588998
https://steamcommunity.com/sharedfiles/filedetails/?id=1158791019
It is noteworthy that though his lore passages, it is not really mentioned which eye was taken out. I could swear in one of the novels he was even described with two glowing red eyes once.The miniature covers the left eye with a patch. The latest artwork from the Grudgelore, covers his right eye. Or they mirrored it wrong and nobody noticed, which should be easy to revert
Similar topics
Chaos
Dark Elves
Dwarfs
Lizardmen
Orcs & Goblins
The Empire
Undead
The Ivory Road
Olde Weirde's Incunabulum 3of5
25 most influential Warhammer characters
-----Red Dox