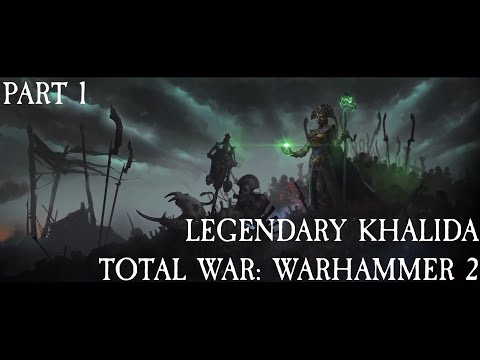 https://www.youtube.com/watch?v=D_B9wwhEjTM&list=PLjpPfvjnsmgLi9WKkzYfqpD02k8-UymgS
Finished my Legendary Khalida run, Youtube above, and just a few thoughts on it as I consider the final battle and beyond.
The Good
WH2 Khalida Vortex on Legendary is a fun challenge in the mould of unfair fun challenges. It's great to sometimes play a game which is grossly unfair on you with lots of AI bonuses etc. and still come out the other side. Maybe it's my love of games like Dark Souls shining through, but there is fun to be had in the dark comedy of facing down an army of Stormvermin with basic skeletons. I think there must have been at least three times during this campaign where I thought; this is it, this campaign is finished, done and irrecoverable and I managed to claw my way back. There's a fun to be had in saying "I may be going down, but you haven't killed me yet" ;-) This is my 4th Legendary Tomb Kings campaign now and each one has been memorable, and much more memorable than the many, many VH/N or VH/H campaigns I've played between them. And isn't that what we play games for? For the fun and memories?
The Bad
Legendary's ranged meta can get tiring at times. There's entire sections of the roster which are instead of doing their main job now simply judged on their ability to be a wall to stand in front of your ranged forces. You start building your armies to adapt to that meta and certainly by the endgame that type of wall/ranged build does seem to be loved by autoresolve overmuch.
The Ugly
The Ambush bug is damn annoying. I only had it once during the run, and unfortunately it was day after CA patched the WH2 client for Epic store cross platform compatibility and I was very much annoyed that CA was willing to do a 3GB patch to put an advert in my face, but not to fix the battle AI. Khalida isn't even an ambush style attacker, for races which get ambush in default stance this remains a very annoying bug. Worse (for a Khalida player), the Tomb King's final battle continued to have a version of that bug, and it has had that bug pretty much since launch. The AI will still let you fully unload any artillery or ranged you have in that final battle and will only engage when you send in your melee forces. Turning what should be an epic battle into something a lot easier. I didn't even have tier 5 constructs when I won the final battle..
But, all round, still amazing fun, and still great fun as a game. Hopefully we'll in September have Immortal Empires and we can start all out massive Tomb King campaigns in a game which (I'd hope) these bugs are sorted on! :-)