Alright, I have to vent a bit. Longer post ahead...
So, since pretty much the release of the game people have been very vocal about frequency of minor settlements. Zerkovich made a great video on that subject 6 month prior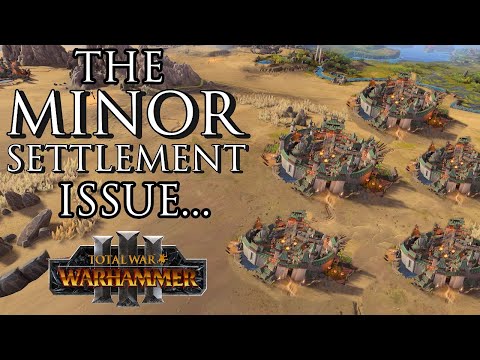 CA promised us back in patch... I think it was 1.2? Or 1.3? that they are gonna change the frequency. It was delayed once... then again for IE... then again for now.
And here it is, the famous rework! Except there is sadly a lot to be desired...
I really liked this mod
https://steamcommunity.com/sharedfiles/filedetails/?id=2877006675&searchtext=minor+settlement+battle+remover
It removes minor settlement battles from the game, which was a great substitute until CA had decided to officially release their own system...
But that mod has one **** problem - game still consider those battles as settlement battles regarding AR (remember that AI always AR battles, so it means a lot for them to have a good AR). Which means you take a massive casualties in those battles, take damage from towers and so on...
Guess what, CA's new change has the same problem. All the minor settlements are regarded as minor settlement battles in AR (for both the player and the AI) regardless wheter they have garrison building built or not. Don't belive me? AR the settlement battle and check your casualties. You will notice that the total number of the kills on enemies unit cards don't match your own casualties... why? Because some of your units were killed by the towers in AR...
Which means that factions with bad AR like Nurgle or Slaanesh have to fight all their settlement battles manually else you will lose half of your army against 7 units...
Another thing is the garrisons - I am fine with the proposed changes that settlements are filed battles now (well, for manual resolve that is) - but why not increase garrison? Why not have, say 13 units at tier 3 instead 7? It's a field battle... LL and a hero can defeat 7 units in a field battle...
What can I say... I know devs are overwhelmed with the sheer amount of IE content, but I have expected more after they had spent 6 month designing this new system.
Thankfully the bug is known to them, but that will get fixed in November. Until then, don't AR settlement battles with weak AR factions - you will take massive casualties (from towers that don't exist in field battles, LOL)
Not a native English speaker, there are probably lots of mistakes regarding tenses. Sorry.
TLDR: AR consider all minor settlement battles as actual settlement battles regardless wheter you have garrison building built or not. **** up your AR and AI' AR. Also the garrisons are trash.