Are you ready to answer the Call of the Beastmen?

As the Warherds gather in the forests of the Old World, all prepare for the coming of the Cloven Ones. Emerging from their woodland lairs to cast down the Empires of Man, they aim to reclaim that which was once theirs. As relentless as they are brutal, they will not rest until the realms of men are destroyed and the Call of the Beastmen is heard across all of The Old World.

Click here to pre-order now and get 10% off: http://store.steampowered.com/app/404012/
(Please allow a few minutes for the link to work)

Our new pack will give you the Beastmen as a new playable race and further expands the game with a brand new Story Campaign. A feral, Chaos-tainted horde race, they move like a plague across The Old World, wielding the deadly Lore of the Wild and fielding half-human aberrations and colossal beasts in battle. The Beastmen are playable in the Grand Campaign, custom and multiplayer battles, and in their very own custom Story Campaign, 'An Eye for an Eye'.

With a uniquely aggressive horde-style campaign game, the Beastmen are masters of unconventional warfare both on and off the battlefield. They feature an array of unique gameplay mechanics, including the ability to travel through overgrown Beastpaths to outmanoeuvre unsuspecting foes and, through a dark bond with Morrslieb, the Chaos Moon, perform twisted acts of faith to gain its favour.

As well as that, we've also got a Free-LC update! The free update will introduce a brand new Lore of Magic and an accompanying Hero unit for the Empire. Perhaps the most rarely seen of all Wizards, the solitary Amber Wizards are no less powerful than their more prevalent counterparts. Wielding the deadly Lore of Beasts they are able to perform unique feats of magical power, from enchanting their allies with impenetrable pelts to summoning a manticore from the bowels of the earth.
They're simply the Beast…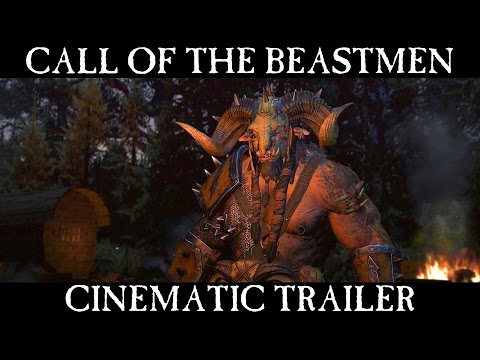 Formal disclaimer: any views or opinions expressed here are those of the poster and do not necessarily represent the views or opinions of The Creative Assembly or SEGA.