I noticed there was still no Estalia faction discussion in the faction directory... So i figured I'd start the speculation off!
Warning... I'm mainly talking out of my
@$$
... But I find the idea of Estalia to be fascinating! I think the idea of a fantasy late medieval/renaissance Spaniard pike and shot army is awesome. I keep picturing how awesome a pike line would look while holding back waves and waves of orcs, Skaven, and lizard-men. While horse gunners are shooting over heads of the line and melee conquistador cavalry charging with swords and rifles.. kinda like a mounted militia cavalry... that would be a cool hybrid, dual purpose cavalry unit now that i'm thinking of it!
With their minimal coverage from Games Workshop... It provides Creative Assembly the opportunity to well... get creative!
Who knows... CA could lay the foundation for Estalia and inspire Games Workshop to actually make a table top army of them and would make a profit for both sides!!
Strengths:
* Good cost effective core spear, halberd, pike units
* Decent Navy
* Decent skirmishers (would also like an armored variant of crossbowmen and gunners)
* Good traders (would like to see them get a campaign bonus with coastal trading)
* Decent harassing units (short range/duel purpose) with sword+pistol units and
AlmogaversWeaknesses:
* Mediocre offensive frontline infantry
* Mediocre core cavalry choices (however, they have access to
The Order of the Righteous Spear
and possibly the
Knights of the Blazing Sun
due to the goddess Myrmidia)
* Rough starting position with internal civil unrest
* Limited Air options (I personally would like it if they didn't have air units)
* Limited montrous units
* Limited magic options
How do you think the army should play?
I picture Estalia playing similar to a Spain renaissance era pike and shot army.
For their faction identity... I think they should have a very formidable and cost effective spear/halberds/pike units.
To exemplify this...I think these units should have access to toggle abilities such as spear wall, and pike wall formations... which makes them cost effective.
Pike units should have an increased unit size of dudes within their unit... In order to make it harder for enemy infantry from just scooting around them easily and completely ignoring them... However, they should have a very low-to-no missile block chance to balance out the increased unit size of pikes. I don't want the same terrible fate that happened to pikes in Rome 2 and Attilla to happen again to pikes in Warhammer. Enemy pikes should be difficult to get around and require you to use your skirmishers to help take care of them by whittling down their numbers . Somewhat similar to pikes in Rome 1.
I picture their melee infantry to mostly consist of musketeer style troops (similar to empire militia) and mediocre conquistador sword infantry. I also picture missionary units that are either agents... or a unit that provided a leadership aura and maybe provide some minor buff/hex spell... kinda like a hybrid between both chaos aspiring champions and sisters of the thorn... however, they would suck in melee and be relatively squishy.
Skirmishers would mainly consist of crossbowmen and gunners. However, they can have armored variants
I like the idea of Estalia having an Inquisitor Hero. I picture their role to be a hybrid between both a witch hunter and warrior priest of Sigmar. Something like a duelist who also has a few mediocre buff/hex spells.
How do you think their campaign should play?
Estalia would kinda be a selfish, neutral faction in the TW:Warhammer world.
Estalia would have a very interesting start position.
They have Skaven and their rivals Tilea on their eastern border. They have Araby across their southern coast. They have their colony Santa Magritta that is under threat at the New World continent of Lustria. And of course... the marauding beastmen that start within their borders!
They would have to make a tough decision to either send resources across the ocean to save their colony... or ward off invading Skaven and Araby from invading their home country!
Their faction bridges the gap between the old world, the new world, and the desert lands of Araby.
Their campaign could be directed towards conquering the new world... while at the same time, having to defend their vulnerable homeland from constant invasions.
Estalia could have an attrition-based campaign in Lustria.
The quest objective could be to capture the Lizard men capital city (I'm not sure which exact one.. I think it's Hexoatl)
Estalia would be suffering from frustrating amounts of attrition while trying to march through the jungles of Lustria and would be under constant threat by raids/ambushes from both lizard men and Skaven... while trying to reach essentially the Lizardmen version of El Dorado.
They would be isolated in a the foreign, strange, and treacherous unknown world of Lustria. They would not have any close allies to call on while in the new world and would be forced to fight off the endless waves on Lizardmen and Skaven on their own!!
P.S.
If you guys think I'm missing anything crucial. I'll edit it into the OP. I would just like to get this thread started an see what cool ideas you guys come up.
Would love to hear your thoughts and opinions on how you think Estalia should be implemented.
Their strengths/weaknesses, How their army should play, potential army units or agents, abilities, campaign mechanics, etc.
Sources:
http://warhammerfantasy.wikia.com/wiki/Estalia
https://issuu.com/m4cr1ii3n/docs/warhammer-armies---estalia_20100908_225012

Random cool motivational stuff to set the mood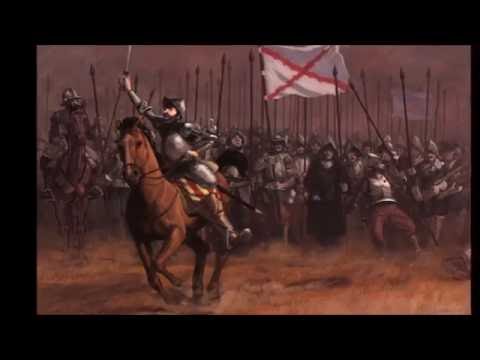 https://www.youtube.com/channel/UCIgX3T9Aam5hSQ6CdrXOdPg