(Yes, its another of
those
posts)
Im a firm beliver on the notion that Beastmen will get updated separately from Chaos arriros as proof of concept for the Big Chaos Rework. The thing with Beastmen is that , since the begging, there have been intrinsict problems with their implementation , many of them not really CA´s fault
*They have been largely neglected by Games Workshop, which left them behind in the power curve, even in tabletop.
*Their Lore is not that impressive, their Poster Child (Gorthor the Beastlord) is long dead and even then his greatest achivement was almost destroying two Imperial provinces and stopping a greenskin Waaaagh!
*The descision to make Khazrak to make the new Poster Child was a bit of an odd one for me, he is more of a regional Warlord than a power player in Beastmen Politics. Malagor is the closest thing the Cloven Ones have to a unifying force (Being the Chaos blessed Doom prophet that he is) So...Why is Malagor not the Poster CHild of the beastmen?
*The always play second fiddle to the Chaos Warriors: In the rule of cool, in power and even their god´s capricious attentions.
This explains their rather trit state, which is something completly regretabble...if not completly expected. But i think CA has the unique opportunity to make them justice where even GW failed to do so.
I will share my humble vision of how such venture could be accomplished. The Twisted and the Twilight has open New possibilities that could greatly benefit the Cloven Ones and stand to make them a completly fulling experience. I will list some ongoing issues and will offer a way on how to advice them
*
THE PROBLEM WITH HORDES AND HOW TO FIX THEM
First some background. Hordes have been a thing thing the Barbarian invasions Expansion for Rome Total War, but its mechanics were only completly definied in their current iteration in Attila Total War, which already showcased a serpent´s egg of the boons and woes that would come to afflict all Warhammer Hordes.
The Main being that Hordes are relatively brittle when it comes to the economic aspect of the game, while severely cosntraining the player in what troops to field, what thign to build and how many armies you could muster due to the cumbersome Growth Mechanics and Public order mechanics.
One of my most memorable campigns in Attila was a White Hun Invasion of the Sassanid Empire, that clearly shwocase thes trengths this style of play could offer: Uninterrupted action with a powerful combination of untis that could outmatch anything the persians coudl throw at me. You make quick and great amount of cash by sacking and raing. but this would prove to one of the Horde´s greatest weaknesses: It turns out that enemy settlements are not unlimited and sooner rather than later you will find yourself playing a sort of "merry-go-round" of **** and pillage just to sustain your forces.. In the aforemention White Huns campaign it got so bad I had to cannibalize my own vassals just to keep the armies going the long towards the West after persia was reduced to rubble.
This sort of "Hyper-agressiveness" was even more pronounced in yet another faction of Attila, the Tanukhids, who had an even more rudimentary economic line of horde buildings. To the point the could even produce their own food and had to rely on Army stances and were painfully depedent on Sacking, the word
"momentum"
is one that would come up in my mind while playing the Tanukhids, because the moment you stopped moving with them is when you would run out of Money, food and your oversized armies would die from attrition, which often elft in the undesirable position of havign toa ttack enemies that were just too big for you and also fall intot he pattern of betraying vassals and allies to secure that one more looting spree that could keep you going.
The fate Tanukhids, would become awfully reminsicent of the woes that befell Beastmen and Chaos Warriors. But in them there the is the word that can be key to make them enjoyable experience , the word
"Momentum"
Before the Twisted and the Twilight, Beastmen wold have to play the "merry-go-round" of **** pillage because even in Warhammer´s colossal Map, settlements are not unlimited and this would put you in some the aforementioned unfavorable situations. But know, with the introdution of Event related battles , this can offer Beastmen the Chance momentum going with a flavorful Mechanic
*Brayherd Gatherings & herd Stones
Thsi event battles would be tied to the gathering celebration that Brayherds celebrate in the eve of great events, the Bray Shamans will sound the horns, calling the bray Herds to the herd Stone where their Champions will battle for Dominance with the winner, inheriting their defeated rival´s followers and all the mismatched packs coalescing into a singular bestial Horde, a proper Brayherd.
This battles of Dominance are the perfect background for these battles which upon triumph will offer the player a simple choice:
-Absorving the pack of the defeated Rival, gaining Units, Heroes, lord or perhaps Horde Buildings to represent the New Followers of your Bray Herd. You will also be able to challenge the Human Followers of Chaos in such a manner gaining access to some Unit fromt heir Roster.
-Sacrificing them all to Chaos, which will result in a juicy injection of cash and you can dedicate the triumph to the honor of one of the Chaos Gods (but more on that later).
-In the aftermath of the battle, a New Herd Stone will appear int he map which will spread Chaos corruption in the region and will serve a Nexus point for the Bray Herds to Fast Travel using the Beast Paths (with a cooldown, a la WE).
-Chaos corruption will now directly affect Horde growth and replinishment, as long as Chaos corruption is above a certain threshold Beastmen Armies will be able to replinish regardless of stance and will gain bonus growth when in an encampment stance.
*Blood Camps and the Eye of the Gods.
One problem that is universal to all hordes is how slow growth rate and ther logistical and economic problems prevent from seizing upon the potential of a varied Army composition. Too many buildings, too little space in hordes and new hordes were hamstrung by the growth System.
I think that solution could be found in anothr Total War Game, Rome 2 in fact, namely in the Rise of the Republic expansion for it. One of RotR factions, the Etruscans of Tarchuna, had a gimmick about them, that their Building selection was limited in the Main settlements and , more importantly, to upgrade the building of provincial settlements you simply had to upgrade the related building in the provincial capital thus enabling to enact sweeping upgrades regionwide
A similar system could be implemented for beast , and Chaos in general, to procure the viability of New Hordes:
*First the number of Building needs to be reduced, in my opinion the optimal number is 3: One for Basic, Advanced and Elite units. The rest of the buildings need to be focused on the tactical and logistical needs of the horde. Improving combat prowess, replishment, growth, loot and Chaos Corruption.
*The Upgrades of the New Hordes will be tied to the Buildings of the Main Horde (Aka the Horde of you Legendary Lord) and will be constructed on level corresponding to the level present in the Main Horde: For example if you Advanced Unit Buildings is on Level 2, all Advanced Unit Buildings will be constructed already in Level 2 in New Hordes, with all buildings upgrading once the building on the Main Horde is upgraded.
*However, buildings and their Level will not be the only requirement for Recruitment. As for accessing more specialized Unit , your Lord will require earn the favors and attention of the Ruinous Powers. The related Mechanics are very straightforward, as all truths related tot he beastmen are:
Upon conquest of an Enemy Force or Settlement you will be able to dedicate a the victory to one of the Four Chaos Gods: Nurgle, Khorne, Tzeentch and Slaanesh, earning favor with the chosen deity while decreasing favor with rest, the more Favor you have the more benefits you unlock. In addition , you could also dedicate the victory to the glory of Chaos Undivided, resulting in a small amount of favor for all deities.
Once enough Favor is earned you will unlock the option to assign the Mark of your Chosen God to your Units, resulting in various benefits: Khorne will increase Weapon Skill and Damage, Slaanesh will increase unit Speed and add Armor Piercing, Nurgle will add unit health and Poisonous attacks and tzeentch will add a Ward Save and Magical attacks.
You will also have access to specialist Units:
(Khorne)Khornegors: Gor Bersekers equipped with Dual-Axes and thrist for blood.
(Khorne)Bronze Bulls: Great Weapon Minotaurs encaused in heavy bronze plate and physical resistance
(Slaanesh)Slaangors: Swift Spear-Wielding Gors specialize in percing armor and bringing down large targets
(Slaanesh) Exalted Slaangors: Equipped with magical Armor and deadly halberds, the Exalted Slaangors can sunder armor, perform deadly strike and are deceptively quick
(Nurgle) Pestigors: Axe and Shield Gors that sacrifice speed for physical endurance and poisoned attacks making them a mighty line unit
(Nurgle) Bloated Giant: An infected Giant , gifted with Papa Nurgle´s latest concoction, with increased resilience and health able to perform breath attacks that do poison and magical damage.
(Tzeentch) Tzaangors: Gors equipped with great Weapons, Magical attacks and Ward Saves.
(Tzeentch) Cygor Oracle: Touched by the Architect of Fate of himself these Cygors , addition to their normal attacks, have a number of bound spells from the Lore of Metal.
-Once the upper limits of a God´s Favor is achived, a Quest battle will unlock against a Champion fo this God who, once defeated, will gift the mark of the God to Your Legendary Lord, making all God-related Rewards permanent and will enable the player to persue the favors of another deity.
-On the contrary, having the favor of a deity bottom out will result in an ambush battle from this God´s followers. Diffuclt that battle that, nonetheless, can gain substantial favor for from opposing deities ina ddition to powerful items from the incumbent God.
*THE BEAST REBORN: The Beast and the Master
One other problem concerning the beastmen is their chronic lack of an interesting Campign Mechanic to distinguish them for other followers of Chaos. While the above mechanics can also perfectly transfor Norsca and the Warriors of Chaos and a lack of compelling Narrative drive for their Campaigns.
*The Tabletop Mechanic of Beastmen Ambush was simply translated as giving gor Units Vanguard Deployment, and while this a a fair adaptation, i think the Mechanic would better suited in a "Menace below" Fashion, giving the player the chance to spwn a number of Gors according to rate of Chaos Corruption present int he Region where battle is being waged.
*I think the Current translation of Primal Fury is serviceable, but would be more flavorful and useful if it was used as in the Waaagh! mechanic for greenskins: Each Beastlord and Bray Shaman is possesed by a singular apocalyptic vision so the way in which their rimal fury translates should vary aswell.
-Khazrak could give additional melee attack and defence to his armies to represent his cunning and tactical prowess.
-Morghur a boost to Morale and Battle damage to represent his unyielding hatred for the works of civilization.
-Morghur could give magical attacks and physical resistance to represent the cavalcade of transformations and mutations afflciting his army by his mere presence.
Finally I think that Legendary Lord that the Beastmen NEED right now, are not ancialliary characters like the likes of Ghorros or Taurox, they are cool, but I think they are too removed from what the beastmen need right now: A charismatic, powerful, unifying force capable of assuming the mantle of Chosen of the Gods to tear down Civilization and the hated Human Race.
That larger than life figure is none but Gorthor the Cruel, Slayer of Greenskins, Scourge of Three Provinces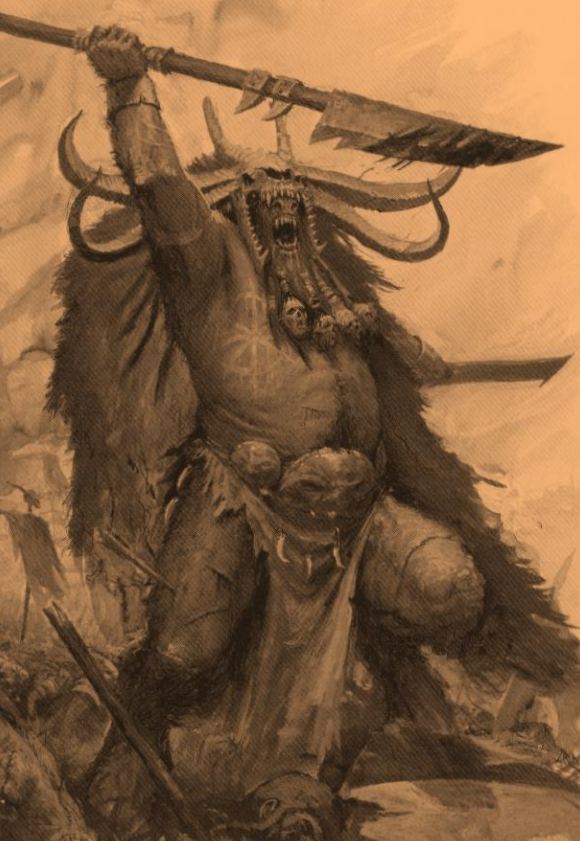 Yeah is anachronistic, but so is the repsence of Ripanse for Bretonnia. Besides, Gorthor was particullary blessed by the Ruinous Powers, weaving a narrative that brings back fromt he death would not be that Hard.
"On a dark night, when Morrslieb hang low in the Sky, a macabre ritual was performed in the Eldest of all Herd Stones. The blood of a hundread Sigmarite Priests and the entrails of an Albino Minotaur Calf were offered amidst Dark Pyres as a Thousand Bray Shamans chanted forbidden inchantations under the sigils that adorned a Forbidden Altar, where the Bones of the Beaslord do Rest.

The Eye the Gods, ever so capricious, was fixed on that spot that night, and with their mgiht hand they knitted muscle and iron sinew of the bones of the dead beast. and with their colelctive breath a New life was given to their truest of Children. Gorthor stalked the Earth Once more...and there would a reckoning for the Nations of Man "
Gorthor´s Campign would be based around regainign his former strength, as the ritual that brought him from the dead depleted all his prodigiouss trength, he knows has to reassert himself as the true CHosen of the Gods, above other Beastlords and , more importantly, above the other Servants of Chaos. The gimmick of His Campign is that he would not suffer from Reputation loss from dedicating victories to other Chaos Gods, as he was truly blessed by the Dark Gods.
Gorthor would be a Melee Lord in Combat with access to some basic Spells fromt he Lore of Death. he woudl pack a punch but would be relatively squishy. In Campaign his bonuses would focus on Regular Gors and God´s Specialists: the Beastmen would gain three new Units int he form of the Preyton, the Ghorgon and the Tuskgor Chariot. Great bray-Shamans and Doombullswill become available as Lord Options
Opposing him, would be Rakarth the Beastmaster, bringing Spellthirsters and the Avatar of Khaine to prove Druchii and Khainite supremacy against the Pet of the Dark Gods. His gikkick would various Monster Hunts to break and tame powerful beasts in service of the Dark Elves
CONCLUSION
With this I think I have laid both my advice and expectations regarding the fate of the beastmen and Chaos as a whole, Chaos is an integral aprt of the Warhammer World, it shapen its face and history in subtle and cataclysmic ways,. Seeing it ratehr trite status as of now is truly a crying shame, but there is hope for the future and I trust Ca will make it right for the Beastmen, something that GW, regrettably failed to do.
I´d liek to read other users suggestions and critics and perhaps anyone more savy in the lore could add further suggestions to improve upon this. I hope the devs will see this small essay it and that it will help them to create something truly special.

"And in that Time of Darkness,
Man became Beast
And Beast became Man"
TLDR: Beastmen Bad. Chaos Bad. Read Ideas on how to make them good